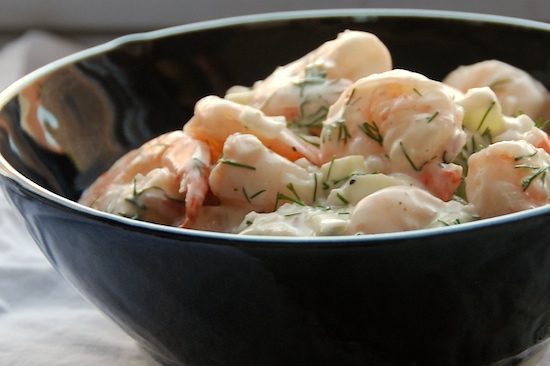 I first had this salad at my nephew Oliver's First Communion party.  My sister Gail made it and it was delicious – so good that I asked to take some leftovers home.   Last week we had a picnic in Central Park with some friends as we listened to the Philharmonic perform an outdoor concert on the Great Lawn.  It was a spectacular (but crowded) night.    I brought this salad and a curried chicken salad, also by Ina Garten.    We spread out a blanket with a couple of votive lights, had some great wine, were with great friends, and had a really nice evening.    I was happy that we didn't finish the shrimp salad that night because it made great leftovers for lunch the next day.
The key to this recipe is under-cooking the shrimp.   Follow the directions exactly and your shrimp will be perfect.  If you do, I bet you receive compliments as I did.   Shrimp are very easy to overcook, and when you do they quickly become tough.
This recipe calls for either white wine, or white wine vinegar.  I didn't have either when I was making it so I used fig vinegar.   It was still incredibly delicious.   I also used deveined shrimp without shells instead of shrimp in the shell.  Other than that, I followed the recipe exactly.
If you like shrimp salad, this is a great one and I highly recommend that you try it.   You really can't go wrong with Ina Garten's recipes.
Shrimp Salad
Recipe from Barefoot Contessa Parties! by Ina Garten

1 1/2 tablespoons plus 1/2 teaspoon kosher salt
1 lemon cut into quarters
2 pounds large shrimp in the shell (16 to 20 shrimp per pound)
1 cup good mayonnaise
1/2 teaspoon Dijon mustard
1 tablespoon white wine vinegar
1/2 teaspoon freshly ground black pepper
3 tablespoons minced fresh dill
1/2 cup minced red onion (~ 1/2 onion)
1 1/2 cups minced celery (~3 stalks)

Bring 5 quarts of water, 1 1/2 tablespoons salt, and the lemon to a boil in a large saucepan. Add the shrimp and reduce the heat to medium. Cook uncovered for only 3 minutes or until the shrimp are barely cooked through. Remove with a slotted spoon to a bowl of cold water. Let cool; then peel, and devein the shrimp.

In a separate bowl, whisk together the mayonnaise, mustard, wine or vinegar, 1/2 teaspoon salt, pepper, and dill. Combine with the peeled shrimp. Add the red onion and celery and check the seasonings. Serve or cover and refrigerate for a few hours.

Yield: 6 servings

Print This Recipe