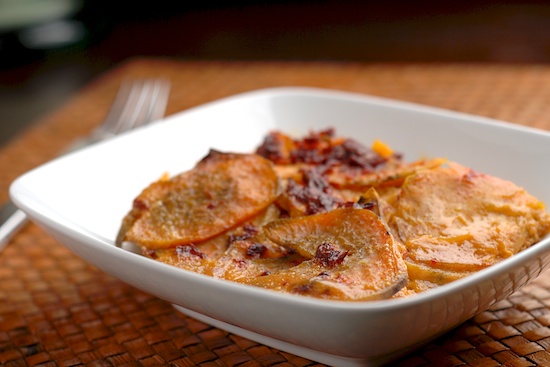 Ok, so this is now one of my favorite new recipes. I could eat this dish day and night. I had a couple of sweet potatoes from the Shelter Island CSA and it was time to use them. This recipe seemed perfect because I just happened to have some heavy cream on hand, and I also had a can of chipotle peppers in adobo sauce. I like to keep those on hand because I have a couple of recipes in my regular rotation that call for them and not every store carries them.
I ate some for dinner last night, and I was happy to eat it again for lunch today. If I'm lucky they'll be some for my lunch tomorrow. It's a bit spicy and I find it to be very filling. I ate some for lunch and didn't need to eat anything else. It was incredibly satisfying.
I made my own chipotle pepper puree by putting the chipotle peppers (from a can of chipotle peppers in adobo sauce) into my mini food processor. I made sure to scrape out all the seeds before I pureed them because the seeds are spicy! The peppers themselves are pretty spicy, but the seeds are worse. I used a heaping tablespoon of pureed peppers in the recipe and consequently my dish was fairly hot. My husband loved it.
I didn't have 2 cups of heavy cream, I only had 1/2 cup, so I substituted half and half for the rest of the cream. I think I'll do this again next time to cut down on some of the fat.
When I found this recipe and read the reviews, I saw a couple of complaints about the cream curdling when the potatoes baked. One suggested solution was to heat the cream before pouring it on the potatoes. I'm not sure if this is necessary, but I heated the cream in the microwave anyway. I figured it couldn't hurt, and it didn't. My cream was absorbed perfectly by the sweet potatoes.
I think I might just make this again this weekend. It was that good, but be warned, it's spicy!
Smoked Chile Scalloped Sweet Potatoes
Recipe from Bobby Flay at foodnetwork.com

2 cups heavy cream (I used 1.5 cups half and half and .5 cups heavy cream)
1 heaping tablespoon chipotle pepper puree (I pureed chipotle peppers in adobo sauce)
3 medium sweet potatoes, peeled and thinly sliced 1/8-inch thick
Salt and freshly ground black pepper

Preheat oven to 375 degrees F.

Whisk together cream and chipotle puree until smooth.

In a 9 by 9-inch casserole dish, arrange the potatoes in even layers. Drizzle with 3 tablespoons of the cream mixture and season with salt and pepper. Repeat with the remaining potatoes, cream, and salt and pepper to form 10 layers.

Cover and bake for 30 minutes, remove cover and continue baking for 45 minutes to 1 hour, or until the cream has been absorbed and the potatoes are cooked through and the top is browned.

Yield: 4-6 servings

One year ago: French Toast
Two years ago: Spiced Coconut Lentil Soup


Print This Recipe