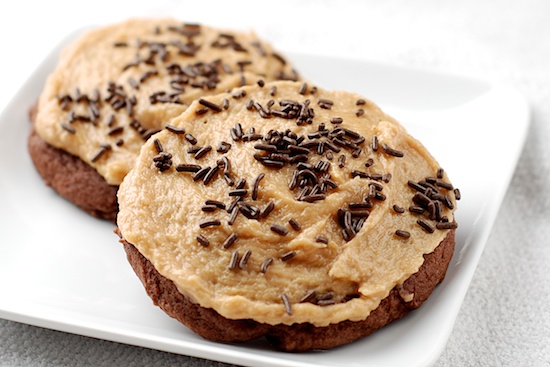 If you're a fan of Reese's Peanut Butter cups, you'll like these cookies.  They don't taste exactly like the candy, but the mix of chocolate cookie with peanut butter frosting makes them similar and delicious.   This cookie is dense, yet soft and one is a perfect sweet to end a meal.   Sometimes I'll eat two at a time, but one is really enough.   These cookies are similar in texture to the frosted sugar cookies that you sometimes see in the supermarket – the cookies that are always covered with garish frosting, but are so delicious.
Three out of four of our boys LOVED these cookies.   One of the boys doesn't like desserts with peanut butter in them.   He's the one that doesn't eat much of anything, and peanut butter and nuts are one of his primary sources of protein.   I guess he doesn't want the same taste in his desserts.
I didn't have any sour cream to use in this recipe so I substituted mascarpone cheese, and they were delicious.

Soft Chocolate Cookies with Peanut Butter Frosting
Recipe from Cooking Classy

2 cups all-purpose flour
1/2 cup cocoa powder
1/2 tsp baking powder
1/4 tsp baking soda
1/2 tsp salt
1/2 cup granulated sugar
1/2 cup light-brown sugar
9 Tbsp butter, softened (1 stick + 1 Tbsp)
2 Tbsp sour cream
1 large egg
1 large egg yolk
1/2 Tbsp vanilla extract
1 Recipe Peanut Butter Frosting, recipe follows
Chocolate sprinkles for decoration

Preheat oven to 350 degrees.  In a mixing bowl, whisk together, flour, cocoa, baking powder, baking soda and salt, set aside.  In the bowl of an electric mixer, whip together granulated sugar, brown sugar, butter and sour cream until light and fluffy about 3-4 minutes.  Mix in egg, egg yolk and vanilla.  Slowly add in dry ingredients and mix until incorporated (dough will be thick).  Scoop dough out 2 tablespoons at a time and form into balls.  Place balls onto greased cookie sheets and evenly flatten to about 1/2 inch thick using your hands.  Bake in preheated oven 9 – 10 minutes.  Allow to cool completely before frosting.  Frost with Peanut Butter Frosting and top with chocolate sprinkles.

Peanut Butter Frosting

1/2 cup creamy peanut butter
3 Tbsp butter, softened
3/4 tsp vanilla extract
1/8 tsp salt
1 1/2 cups powdered sugar (or more to taste)
3 – 4 Tbsp milk

In a large mixing bowl, using an electric mixer, whip together peanut butter, butter, vanilla and salt until smooth. Slowly add the powdered sugar and milk (begin with 3 Tbsp then add 1 additional Tbsp milk if necessary to get your desired consistency), and blend until smooth and fluffy.

Yield:  ~24 cookies

One year ago:  Black Bean Soup with Sherry
Two years ago: Baked Tortilla Chips
Three years ago: Brazillian-Style Collard Greens
Four years ago: Smashed Sweet Potatoes

Print This Recipe