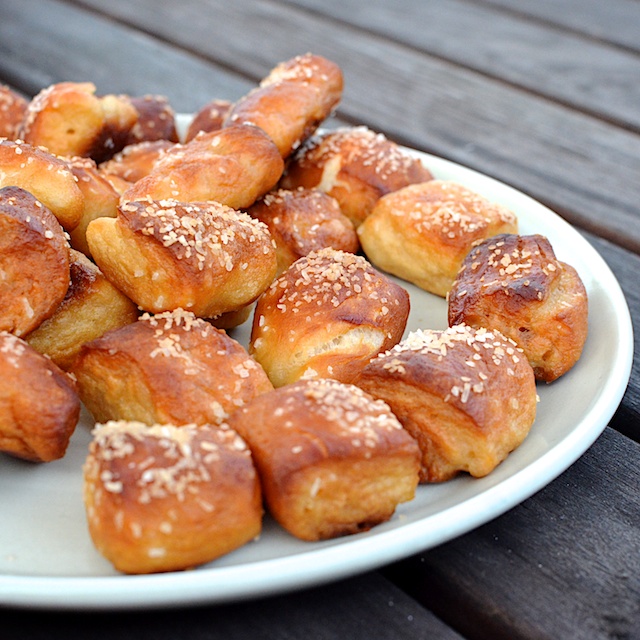 When I first graduated from college, many moons ago, I would often get a pretzel on the way home from work from a shop called Auntie Anne's. They were my favorite pretzels of all time. Soft, buttery and delicious. For a long time I would get a plain pretzel, then I discovered their cinnamon sugar pretzels. Boy, were they good. My mouth is watering right now just thinking about them. About a year ago we passed an Auntie Anne's pretzel shop and we took the boys in. They now love them as much as I do, especially the cinnamon sugar pretzels.
I recently found this pretzel recipe online and decided to try it. I have tried to make pretzels before, but never ended up making anything that I liked. So glad I found this recipe. The pretzel nuggets taste just like the ones sold at Auntie Annie's. The last time we made them, I made the dough and the boys made the pretzels. They had great fun. This is a great recipe to make with kids because there are lots of things to do – roll out the dough, cut the rolls into nuggets, boil them, salt them, etc.
These make a great snack for the kids.
Soft Pretzel Nugggets
Recipe from Gourmet and epicurious.com

Pretzel Dough:

1 cup warm water (100° to 110°F)
1 (1/4-ounce) envelope active dry yeast
3 cups bread flour or all-purpose flour plus more for work surface
1 tablespoon coarse kosher salt
2 tablespoons packed light brown sugar
1/2 stick (4 tablespoons) unsalted butter, well softened
Vegetable oil for bowl

Baking Pretzels:

8 cups water
1/2 cup baking soda
Pretzel salt or coarse kosher salt

Stir together warm water and yeast in a large bowl and let stand until a creamy beige foam develops on the surface, about 10 minutes. (If mixture doesn't foam, start over with new yeast.)

Meanwhile, in a smaller bowl, stir together flour, salt, and light brown sugar.

Add flour mixture and butter to yeast mixture, and stir together first with a wooden spoon and then with your hands, until it forms a dough. On a lightly floured surface, knead dough until it is smooth and elastic, 8 to 10 minutes, dusting with more flour as needed if dough sticks to work surface. Alternatively you can use a stand mixer with a dough hook.

Transfer dough to a lightly oiled large bowl and turn over to coat with oil. Cover with a kitchen towel (not terry cloth) and let rise in a draft-free place at room temperature until doubled, 2 to 3 hours.

Alternatively, after kneading, let dough rest at room temperature for 15 minutes, then transfer to oiled bowl as above, and let rise in the refrigerator overnight (12 hours or up to 2 days).

Punch down dough and divide into quarters. Form each quarter into 4 balls. Roll each ball into a 12-inch-long rope. Cut each rope into six (2-inch) pieces, and transfer to wax paper–lined rimmed baking sheets.

Bake Pretzels:
Heat oven to 450°F with racks in upper and lower third. Well oil 2 large baking sheets (about 17- by 12- inches).

In a 4- to 5-quart saucepan, bring water and baking soda to a boil (mixture will be foamy at first, but foam will dissipate). Add 12 pretzel bites and cook 30 seconds (they will rise to the surface almost immediately), then transfer with a slotted spoon to baking sheets. Quickly sprinkle pretzel bites lightly on both sides with pretzel salt before they dry (so salt sticks). Repeat with remaining pretzel bites, returning water to a boil between batches.

Bake pretzel bites in oven, switching sheets between racks and rotating sheets halfway through baking, until deep chestnut brown, 8 to 10 minutes (watch closely toward end of baking; bites brown quickly in last few minutes). Immediately transfer pretzel bites to wire racks to cool.

Yield: ~8 dozen pretzel bites

One year ago: Mediterranean Eggplant and Barley Salad
Two years ago: Buttermilk Ice Cream
Three years ago: Chocolate Freckle Ice Cream
Four years ago: Roasted Potatoes
Five years ago: Tuna Salad with Cannellini Beans

Print This Recipe