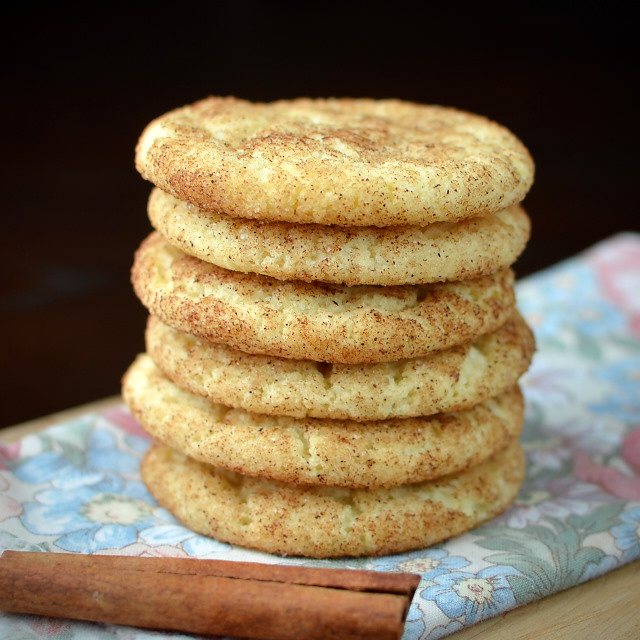 Snickerdoodles are one of my favorite cookies at this time of year.   Not sure why I associate them with the fall, but I do. Maybe it's the cinnamon.
If you don't know what a snickerdoodle is, it's like a soft sugar cookie rolled in a mixture of cinnamon and sugar. So simple, but so good. The key to a good snickerdoodle is the use of cream of tartar. It keeps the cookies on the soft side.
My friend Jens was in the city recently when I was making these and he helped mix the dry ingredients. Unbeknownst to me, he decided to cut the baking soda in half. I only found this out after the cookies were baked. He said that he always cuts the baking soda in half when he's making cookies, no matter what the recipe. He claimed that it makes his cookies more cake-like. I'm a fan of flatter, less cake-like cookies, so I tried an experiment. The day after Jens helped with the cookies, I made a batch using the full amount (1 teaspoon, in the case of this recipe) of baking soda, and compared the two cookies. The results are below. You can see that there's a definite difference in height. I thought mine were much better and three out of my four boys agreed with me.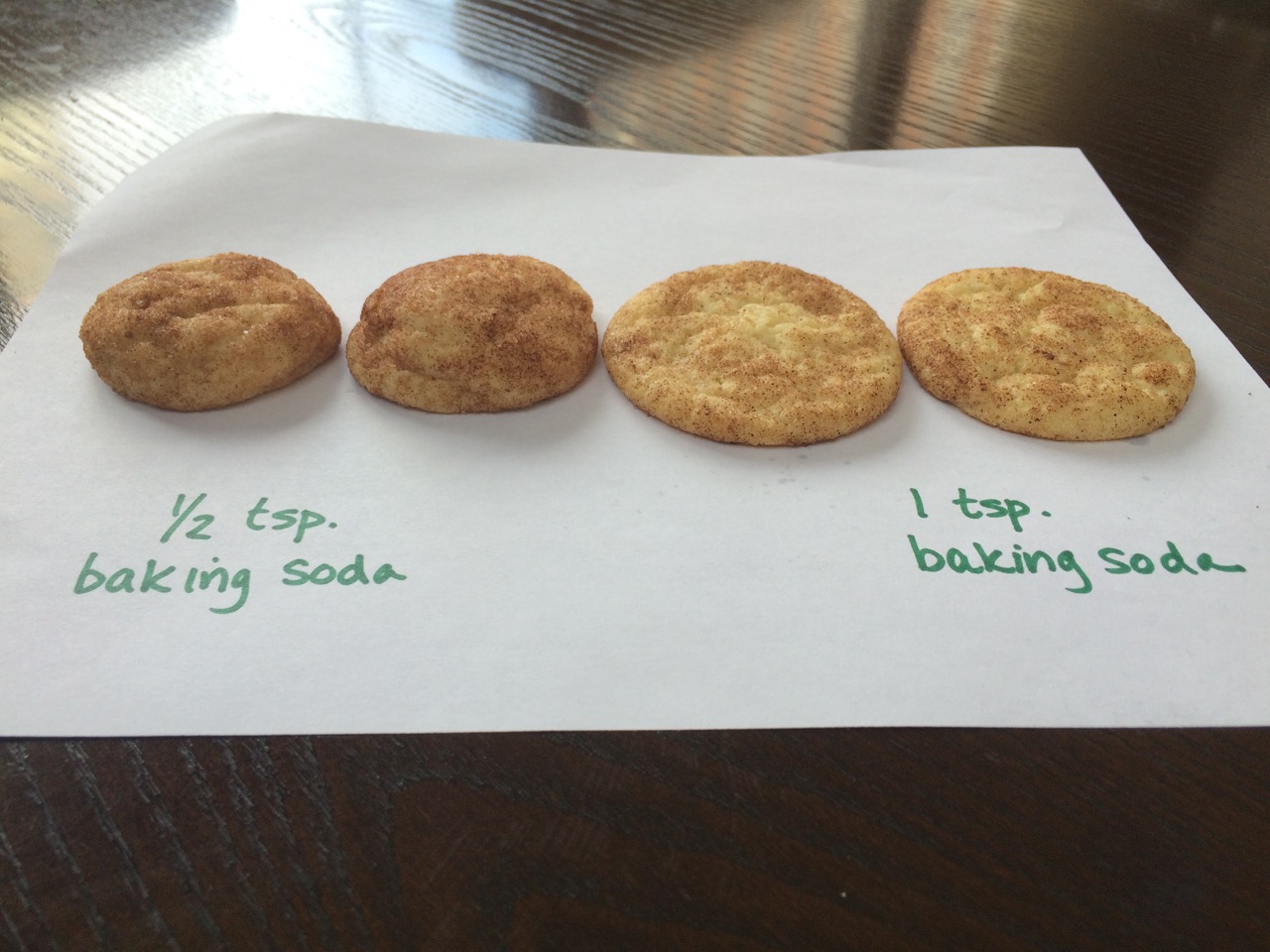 Soft Snickerdoodles
Recipe adapted slightly from Food.com

1 cup butter
1 1/2 cups sugar
2 large eggs
2 3/4 cups flour
2 teaspoons cream of tartar
1 teaspoon baking soda
1/4 teaspoon salt
3 Tablespoons sugar
3 teaspoons cinnamon

Preheat oven to 350°F.

Cream butter and sugar in a large mixing bowl. Add eggs one at a time until thoroughly mixed.

Combine flour, cream of tartar, baking soda and salt in a separate bowl.

Blend dry ingredients into butter/sugar mixture. Chill the dough (I put mine in the freezer for 15 minutes, which was sufficient).

Meanwhile, mix 3 tablespoons sugar, and 3 teaspoons cinnamon in a small bowl.

Use a small ice cream scoop (or two spoons) to scoop 1-inch balls of dough into the sugar/cinnamon mixture. Gently roll the dough in the cinnamon sugar mixture to thoroughly coat them.

Place on ungreased cookie sheet. Bake for 10 minutes. Remove from pan and let cook on a wire rack.

Yield: ~30 cookies for me, but the number will depend upon how much dough you use for each cookie

One year ago: Mallobars
Two years ago: Shredded Brussels Sprouts
Three years ago: Halloween Treats
Four years ago: Baked Flounder with Tomatoes and Basil
Five years ago:
« Beef, Cheddar and Potato Pie
Shortbread Candy Bars »
Red Lentil Soup with Lemon

Six years ago: Spinach and Chicken Tortilla Bake
Seven years ago: Pumpkin Chocolate Chip Cookies

Print This Recipe