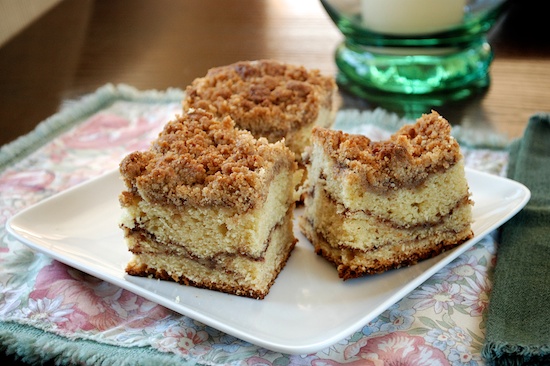 I'm a big fan of crumb cake for breakfast. My favorite part is the crumb topping, but the cake part isn't bad either. I saw this recipe and was grabbed by the title. Anything with a chocolate cinnamon swirl is right up my alley.
This coffee cake reminded me of something that you'd buy at Starbucks. It's very moist and the topping is delicious. My boys loved it. I was actually surprised by this, because they're typically not fans of things with nuts in them, and this crumb topping is loaded with nuts. My husband loved it too. I thought it was very good, but I happen to be a bigger fan of this type of cake for breakfast. Just a personal preference.
This recipe makes a lot of coffee cake, so it's a great recipe to make for a crowd. Your next brunch, perhaps?
Sour Cream Coffee Cake with Chocolate Cinnamon Swirl
Recipe adapted very slightly from Baked: New Frontiers in Baking by Matt Lewis, as seen on Lottie + Doof

Crumb Topping
3/4 cup all-purpose flour
3/4 cup packed dark brown sugar
1/2 teaspoon salt
3/4 cup pecans, toasted
6 tablespoons cold unsalted butter, cut into 1 inch pieces

Chocolate Cinnamon Swirl
1/2 cup sugar
1 teaspoon dark unsweetened cocoa powder
1 1/2 teaspoons cinnamon

Cake
3 1/2 cups all-purpose flour
1 teaspoon baking powder
1 1/2 teaspoons baking soda
1/2 teaspoon salt
2 sticks unsalted butter, softened
2 1/4 cups sugar
4 large eggs
16 ounces sour cream
2 teaspoons pure vanilla extract

Crumb Topping:

Put the flour, sugar, and salt in bowl of food processor and pulse to combine. Add the pecans and pulse until they are finely chopped and incorporated. Add the butter and pulse until mixture looks like coarse sand. Cover and refrigerate.

Chocolate Cinnamon Swirl:

Mix ingredients in small bowl.

Sour Cream Cake:

Preheat the oven to 350° F. Butter a 9×13-inch baking pan. Sift together the flour, baking powder, baking soda, and salt together in a medium bowl.

In the bowl of a stand mixer fitted with the paddle attachment, cream the butter until smooth. Scrape down bowl and add sugar. Beat until the mixture is light and fluffy. Add the eggs, one at a time, beating well after each addition and scraping bowl as needed.

Add the sour cream and vanilla and beat just until incorporated. Add the dry ingredients in three additions, scraping down the bowl before each addition and beating only until each addition is just incorporated. Do not overmix.

Pour one third of the cake batter into the prepared pan. Use an offset spatula to spread batter evenly in pan. This may take some doing. It doesn't have to be perfect. Do the best you can. Sprinkle half of the chocolate cinnamon swirl mixture over batter, covering the entire surface of the batter. Spoon half of remaining batter over the swirl mixture and spread it evenly. Again, this may be challenging. It's a little tricky to get the batter to spread nicely over the chocolate cinnamon mixture. Just take your time and do your best. It doesn't have to be absolutely perfect. Top with remaining swirl mixture, then the remaining batter, and spread the batter evenly. Sprinkle the crumb topping evenly over the top of the batter.

Bake in the center of the oven for one hour, or until a toothpick inserted in the center of the cake comes out clean. Let the cake cool on a wire rack for 30 minutes.

Yield:  16 Servings

One year ago: Sugar Cookies with Nutella and Sea Salt
Two years ago: Chocolate and Meringue Angel Pie
Three years ago: Pad Thai with Chicken and Shrimp
Four years ago: Sweet Potato Muffins
Five years ago: Quick Vanilla Buttercream Frosting

Print This Recipe