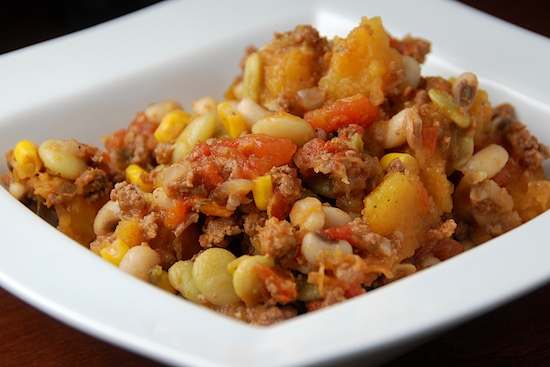 We took the boys to Disney last week and I brought a stack of cooking magazines with me. They were sitting in a pile in the kitchen and my husband was threatening to throw them away, so I figured I'd read them on the plane. I got through most of them, tearing out a pile of recipes as I was going along. This was one of them. After almost a week at Disney, I craved something with a lot of vegetables and this recipe seemed to fit the bill perfectly. I don't think I need to eat another chicken nugget for a couple of months now.
This was very easy to throw together. The most time consuming part is peeling the acorn squash. The directions called for a squash peeled, seeded and cut into cubes. I started to peel the squash, found it wasn't so easy to do, and decided to cut the squash into wedges, remove the seeds and roast it like that. I then peeled the squash once it was cooked, and I found it to be much easier that way.
When I first tasted the chili after it had cooked, I found that it lacked a little zing. I added a little Tabasco Chipotle Pepper Sauce with some salt and pepper, and that did the trick. It was then delicious.   I think you can play with any spices that you like to give it that extra zing.   Next time I might add a little cayenne pepper.  I'll most certainly make this again.   When you make this, invest in some fresh oregano.  I think fresh herbs make a world of difference in recipes. The acorn squash adds a welcome touch of sweetness to the chili.
Oh, did my boys even try the chili?   No such luck.
Southwestern-Style Succotash Chili
Adapted from Everyday by Rachael Ray

1 large acorn squash (about 2 pounds)— seeded and cut into wedges
Salt and pepper
1 pound ground beef
1 large onion, chopped
2 poblano chiles, seeded and chopped
One 10-ounce bag frozen corn, thawed
Three 15-ounce cans diced tomatoes
One 10-ounce box frozen baby lima beans, thawed
One 10-ounce box frozen black-eyed peas, thawed
1/2 teaspoon Tabasco Chipotle Pepper Sauce, or more to taste
2 tablespoons chopped fresh oregano

Preheat the oven to 475°. Line a baking sheet with parchment paper. Add the acorn squash, season with salt and pepper and bake until golden, 30 to 35 minutes.  Roast until tender when poked with a fork.   Let cool.

Meanwhile, in a large saucepan, cook the ground beef, breaking it up, over medium-high heat until no longer pink, about 3 minutes; using a slotted spoon, transfer to a bowl. Add the onion, chiles and corn to the pan and cook over medium heat until the corn begins to brown, about 8 minutes. Stir in the tomatoes, lima beans, black-eyed peas, oregano, chipotle pepper sauce and beef. Lower the heat, cover and simmer until the black-eyed peas are tender, about 20 minutes.   While the chili is cooking, peel the cooked squash and cut it into cubes.  When the black-eyed peas are tender, stir in the baked squash and season with salt and pepper, and more Chipotle Pepper Sauce if necessary.

Yield:  6 servings

Print This Recipe