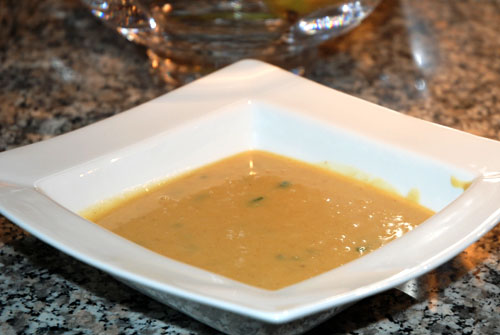 I love lentils and I love coconut.   And there's nothing more perfect than a bowl of hot soup on a cold day.  This soup is very tasty with all of the spices that are in it and it's a nice change from traditional lentil soups.   The spices and the basil really jazz up the lentils and give it a nice Indian flavor.  
If you have an immersion blender, this recipe provides a perfect opportunity to use it.
I have made this soup with the red lentils that the recipe calls for, and I have also made it with regular lentils. Both are very good. The soup is a little creamier with the red lentils and it has a much prettier color, but regular lentils work fine if you don't have red ones on hand.   Here's what the soup looks like when you make it with regular (not red) lentils.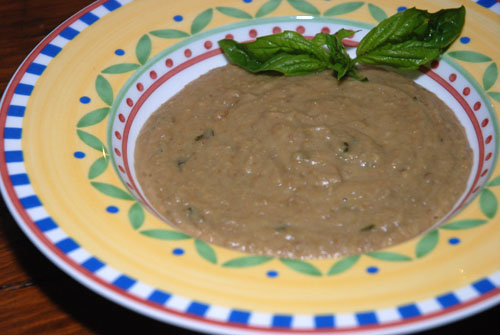 Spiced Coconut Lentil Soup
Adapted from Cooking Light 

2  teaspoons  olive oil

2  cups  chopped onion

1  tablespoon  minced peeled fresh ginger

1  teaspoon  ground cumin

1/2  teaspoon  ground coriander

1/8  teaspoon  ground cinnamon

5  garlic cloves, minced

3  cups chicken broth

1  cup  dried small red lentils

1/2  cup  water

1  cup  light coconut milk

3  tablespoons  chopped fresh basil

2  tablespoons  fresh lime juice

1/4  teaspoon  salt  

Heat oil in a large saucepan over medium heat. Add onion; cook 12 minutes or until golden. Stir in ginger and next 4 ingredients (through garlic); cook 1 minute, stirring constantly. Add broth, lentils, and 1/2 cup water; bring to a boil. Cover, reduce heat, and simmer 25 minutes or until lentils are tender.

Remove from heat; let stand 5 minutes. Using an immersion blender, blend until smooth. Stir in milk and remaining ingredients; cook over medium heat 2 minutes.

Print This Recipe