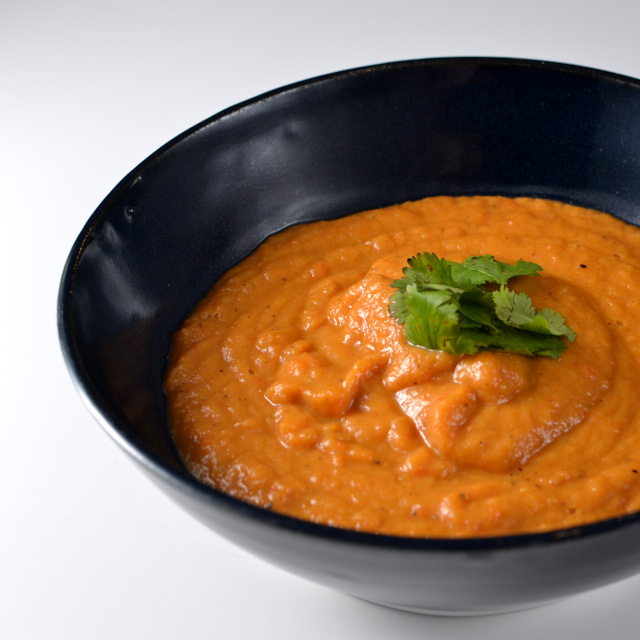 During the boys' winter break, we went to Disney World with family and had a wonderful time. We were a group of 15 in total. We stayed at the Animal Kingdom Lodge and ate at their restaurant called Boma – Flavors of Africa twice during our stay. My favorite part of the meal at Boma was the selection of delicious soups they served each night. I'm now on a soup kick.
According to my husband, this is the best soup I have ever made. It's creamy without the addition of dairy, and it's nice and spicy from the hot chili sauce. It's so simple to make and doesn't have a long list of complicated ingredients. Sometimes the best recipes are made with a very short list of ingredients. The one ingredient that is a little atypical, unless you make a lot of Asian food, is the Thai-style chili sauce. I didn't have this exactly, but guess where I found a perfect substitute. Trader Joe's. They sell Huy Fong Chili Garlic Sauce, which is perfect for this recipe. If you don't have it, or can't easily purchase it, Sriracha sauce is a good substitute. Trader Joe's sells that too. Two tablespoons of the chili garlic sauce gave the soup some noticeably, nice heat. If you don't like your dishes as spicy, I'd start with one tablespoon, taste for heat, and work up from there. My husband is already asking for another batch of this soup and for me, this recipe rivals any of the soups served at Boma, and their soups were delicious.
When I pureed my soup, it was on the thick side, which we like. If you find the soup is too thick, you can think it with more broth or water. The original recipe called for chicken broth, but I wanted to make the soup vegetarian, so I used vegetable broth. For most recipes, I interchange the two.
Spicy Carrot-Coconut Soup
Recipe from Bon Appétit

1/4 cup (1/2 stick) unsalted butter
1 pound carrots, peeled, chopped
1 medium onion, chopped
Kosher salt and freshly ground black pepper
2 cups low-sodium vegetable broth
13.5-oz. can unsweetened coconut milk
2 tablespoons Thai-style chili sauce plus more for serving
Fresh cilantro leaves (for serving)

Melt butter in a large saucepan over medium-high heat. Add carrots and onion, season with salt and pepper, and cook, stirring often, until carrots are softened, 15–20 minutes. Stir in broth, coconut milk, and 2 Tbsp. chili sauce. Bring to a boil, reduce heat, and simmer, stirring occasionally, until vegetables are very soft and liquid is slightly reduced, 40–45 minutes.

Let soup cool slightly, then purée in a blender until smooth. Reheat in a clean saucepan, thinning with water to desired consistency; season with salt and pepper.

Divide soup among bowls, drizzle with chili sauce, and top with cilantro.

Yield: 4 servings

One year ago: Roasted Red Pepper and Ricotta Soup
Two years ago: Mini Churros
Three years ago: Broccoli, Cheddar and Wild Rice Casserole
Four years ago: Meyer Lemon Gelato
Five years ago: Sweet Potato and Quinoa Salad
Six years ago: Alfajores
Seven years ago: Pineapple and Meyer Lemon Sorbet
Eight years ago: Peanut Butter Cookies
Nine years ago: Smashed Sweet Potatoes

Print This Recipe