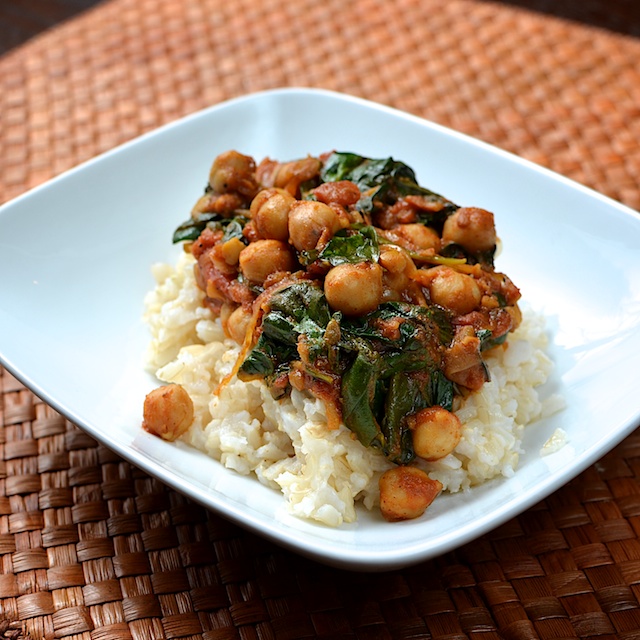 This side-dish is easy to throw together and it's packed with flavor. Using canned chickpeas and canned (or boxed) diced-tomatoes really speeds up the process. We ate this one night as a side dish, and another night on brown rice as a vegetarian main course. This dish has an Indian flair, and it makes your kitchen (or your whole apartment in my case) smell great while it's cooking. If you live in a house with an exhaust fan that vents to the outside, you'll be in good shape because you'll smell the curry while it's cooking, but the smell will soon dissipate. In the case of NYC apartments, you might smell the curry for a couple of days. This is not one of my favorite features of NY apartments. We burn a lot of candles here.
If you like Indian food, it's worth investing in some garam masala, which is a standard ingredient in many Indian dishes. If you invest in some (it's actually not that expensive), you can use it in these recipes: Shrimp with Spiced Masala and Coconut Milk, Chicken Tikka Masala, and Caramelized Spiced Nuts.
This recipe calls for 1/8 teaspoon of cayenne pepper. If you like dishes with a little kick, you can up this to 1/4 teaspoon, or even 1/2 teaspoon, depending upon how spicy you like things.
The boys wouldn't go near this with a 10-foot pole.
Spinach and Chickpea Curry
Recipe from FineCooking.com

3 Tbs. canola oil
1/4 medium red onion, thinly sliced
2 Tbs. finely chopped fresh ginger
1 Tbs. curry powder
1 tsp. garam masala
1/8 tsp. cayenne
1 15-oz. can chickpeas, rinsed and drained
1 14-1/2-oz. can diced tomatoes
Kosher salt
7 oz. (7 packed cups) baby spinach
1/4 cup chopped cilantro
1/2 cup Greek yogurt

Heat the oil in a 12-inch sauté pan over medium-high heat. Add the onions, ginger, curry powder, garam masala, and cayenne, and cook, stirring often, until the onion is softened, 2 to 3 minutes. Stir in the chickpeas, tomatoes, and 1-1/4 tsp. salt. Add the spinach by the handful, stirring to wilt it as you go. Continue to cook, stirring often, until the spinach is completely wilted and the flavors have melded, 4 to 5 minutes more. Season to taste with more salt. Remove the pan from the heat and stir in the cilantro.

Spoon onto a platter, and serve with yogurt as an optional topping.

Yield: 4 servings

Two years ago: Curried Lentil Stew with Potatoes
Three years ago: Pink Grapefruit Sorbet
Four years ago: Tortillitas with Shrimp
Five years ago: Frozen Chocolate Covered Bananas
Six years ago: Basil Parmesan Chicken Salad

Print This Recipe