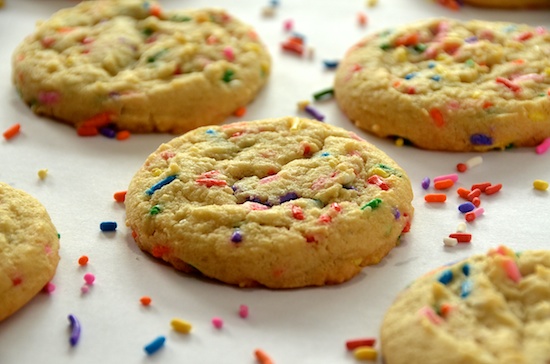 After our make-your-own-sundae night with our friends from Atlanta, we had a lot of ice cream toppings left over. The sprinkles in the cabinet were screaming to be used, so I decided to mix them into cookies.
My mother is from Boston, so she calls sprinkles 'jimmies'. I called them jimmies the other day and my boys had no idea what I was talking about. I've read that they're also called 'hundreds and thousands', but I've never heard them called that. I wonder what part of the country calls them that.
These sugar cookies are not as sweet as many cookies are, but they're quite flavorful. The almond extract is key here. These cookies are not crispy, they're a nice soft cookie (if you don't let them cook too long.)
The boys loved these – no big surprise. So did our friends Anthony and Greg. With company visiting, the cookies were devoured in no time. These would be great for a bake sale or for a summer party. I hope you like them.
Sprinkle Sugar Cookies
Recipe from Tasty Kitchen as posted by Two Peas and their Pod

1 cup butter, softened
1 1/4 cup sugar
2 teaspoons vanilla extract
1 teaspoon almond extract
1 large egg
2 1/2 cups flour
1/4 cups cornstarch
3/4 teaspoon baking soda
1/2 teaspoon salt
1/2 cup rainbow sprinkles

Preheat the oven to 375 F.

Cream the butter and sugar in your stand mixer (or hand mixer) for about 2 minutes, until fluffy. Add the vanilla, almond extract, and the egg. Beat until well combined.

In a separate bowl, sift in the flour, cornstarch, soda, and salt. Slowly add the flour mixture to the butter mixture, and continue on low speed until it's all added and combined. Mix in the sprinkles by hand.

Using an ice cream scoop, scoop cookie dough onto cookie sheets, about 1 1/2 inches apart (fits 8 cookies per sheet). Bake for about 15 minutes. (Note: Only bake until they very slightly start to turn light golden brown just on the edges. You don't want them to totally turn golden or they'll be crisp cookies. Check them around 10 minutes, then 12, and so on.)

Cool on a wire rack. Store in an airtight container up to 4 days.

Yield: ~24 cookies

Print This Recipe