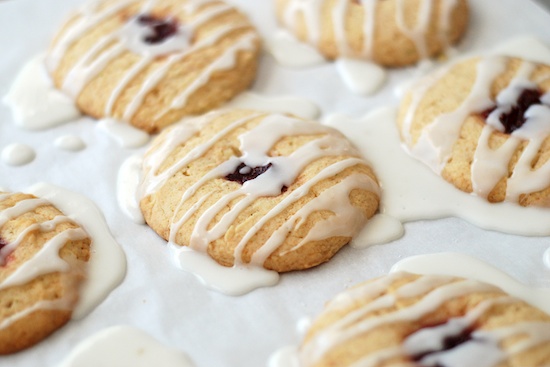 Here's another delicious recipe made with Mrs. Eldredge's fresh strawberry jam.   These scones are wonderful and the rosemary gives them a really interesting and complex flavor. You wouldn't think that strawberry and rosemary go together, but in these scones, they absolutely do. The sweet lemony glaze is wonderful as well. I'm a big fan of Giada's recipes these days. Made her meatloaf again tonight. It's currently my favorite turkey meatloaf recipe.
I have a couple of boys that don't love jam so I made a couple with chocolate chips.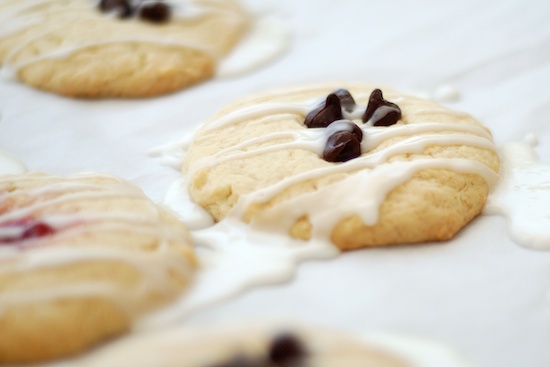 Strawberry and Rosemary Scones
Recipe from Giada DeLaurentiis
Scones:
2 cups all-purpose flour, plus more for dusting
1/2 cup sugar
2 teaspoons baking powder
1 tablespoon finely chopped fresh rosemary leaves
1/4 teaspoon fine sea salt
6 tablespoons unsalted butter, cut into 1/2-inch pieces
1 cup heavy cream
1/3 cup strawberry jam
Glaze:
1/4 cup fresh lemon juice, from 1 large lemon
2 cups powdered sugar
1 to 2 tablespoons water
For the scones:
Place an oven rack in the middle of the oven. Preheat the oven to 375 degrees F. Line a baking sheet with parchment paper. Set aside.
In the bowl of a food processor, pulse together the flour, sugar, baking powder, rosemary, salt, and butter until the mixture resembles a coarse meal. Transfer the mixture to a medium bowl. Gradually stir in the cream until the mixture forms a dough. On a lightly floured work surface, roll out the dough into a 1/2-inch thick, 10-inch circle. Using a 3-inch cookie cutter, cut out pieces of dough and put on the prepared baking sheet. Gently knead together any leftover pieces of dough and roll out to 1/2-inch thick. Cut the dough into more heart shapes and add to the baking sheet. Using an index finger or a small, round measuring spoon, gently make an indentation in the center of each pastry heart. Spoon a heaped 1/2 teaspoon of jam into each indentation. Bake for 18 to 20 minutes or until the edges are golden brown. Transfer the cooked scones onto a wire rack and cool for 30 minutes.
For the glaze: In a medium bowl, mix together the lemon juice and powdered sugar until smooth. Gradually add the water until the mixture is thin enough to spread. Using a spoon, drizzle the glaze over the scones. Let the glaze set for about 30 minutes. Serve or store in an airtight plastic container for 2 days.
Yield: ~14 scones