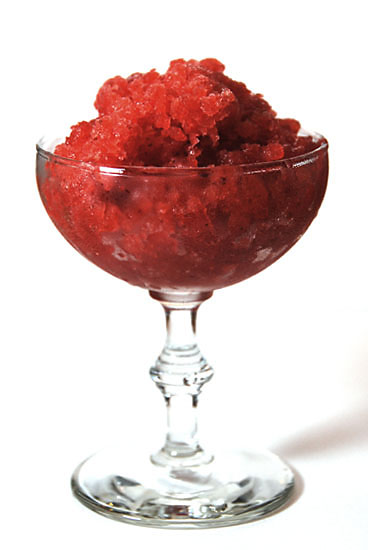 We're still eating up all of the fresh fruit that we have and I knew that we wouldn't finish our strawberries before they spoiled, so I searched for a recipe that would use a lot of them all at once.  I found lots of strawberry recipes, but the ones that looked most appealing to me today were the granita recipes, mainly because we don't have any eggs in the house which ruled out recipes like tarts,  shortcake, any kind of cake for that matter, etc.
My mother has been talking about granitas for years ever since she and my father had them in Italy, so I have wnated to try one for quite some time now.  I just looked up the term 'granita' to find that it's an Italian dessert made of sugar, water and flavoring.   That description doesn't hold a candle to how delicious this dessert is.   It's a perfect summer dessert – light, fruity, crunchy and as sweet (or not sweet) as you want it.   It's also very easy to make.
When you puree the fruit and the sugar, add the sugar in batches, and taste the puree after each addition. Depending upon how sweet your strawberries are, you might not need all of the sugar.
The granita wasn't ready by the time the boys went to bed tonight, but they had their eyes on them as I stirred them in the freezer every 30 minutes, so I let them try some even though it wasn't quite done.   Boy did they love it.   They made me promise that we wouldn't eat it all tonight.  I promised, but I'm wondering if I didn't have my fingers or arms or something crossed.   I've already had two servings, and it's going to be very tough not to have some more.
I made this salad again last night, and I really love the balsamic lime dressing, so I decided to tinker with the flavor of my granita by using both fresh lime and balsamic vinegar.  All I can say is yum.   Next time I make this, I'll add a little more lime juice and vinegar to make it a little more tart.
Strawberry Granita

3 cups rinsed and quartered ripe strawberries (about 1 quart)
3/4 cup granulated sugar (or to taste)
2 teaspoons fresh lime juice
1-1/2 cups water
1 teaspoon balsamic vinegar

In a food processor, combine the strawberries and the sugar.   Mix for a minute or so until you have a smooth puree.   Mix in the lime juice and balsamic vinegar.   Pour the puree into a 13″x 9″ baking pan (metal if possible, as it conducts the cold well).   Stir the water into the mixture.   Put the mixture in the freezer.   Stir the granita every 30 minutes using a fork, making sure that you scrape all of the frozen bits away from the side of the pan and into the center.  Mine was frozen in about 2 hours.

If you don't eat it first, cover the mixture and keep it in the freezer overnight.   When you're ready to serve it, scrape the mixture with a fork and it's ready!

Yield:  6 cups or 12 servings

Print This Recipe