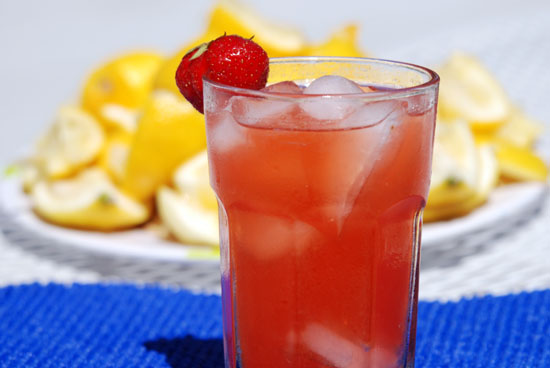 This libation was a big hit at the pool today.   My sister-in-law, my niece,  her husband and their baby came by for a swim this afternoon and they enjoyed the lemonade when they were not in the water. It was pointed out to me today that I'm a great aunt!    Doesn't that sound strange?   I associate the term 'great aunt' with octogenarians and nonagenarians.   I can't believe I qualify.  Yikes!
My friend Amy bought me two quarts of fresh strawberries the other day, and I also won a huge fruit basket at a local Shelter Island Historical Society event on Saturday, so there's currently too much fresh fruit in this house to consume before it goes bad.   I thought this lemonade would be a perfect way to use up some of the strawberries, and it was.   I must say that it was a bit time-consuming to make because we don't have the best juicer here – consequently it seemed to take forever to juice all of the lemons, but in the end the final product was delicious.  It was awfully pretty too.
Three of the four boys loved it.   One thought it was just ok.   I thought it was delicious and I also think it would be excellent with a little vodka!   It's best on a hot day with lots of ice.
Strawberry Lemonade
Recipe from Fine Cooking Magazine, September 2006

1 1/2 cups granulated sugar
1 cup coarsely chopped fresh strawberries (~6 oz.)
Zest of 2 lemons peeled off in strips with a vegetable peeler (avoid the white pith)
2 cups fresh lemon juice (squeezed from ~8 – 10 lemons)

Combine the sugar and strawberries with 2 cups water in a medium saucepan.  Bring to a boil over medium-high heat, stirring occasionally.   Reduce the heat to low and simmer until the berries begin to release their color and soften slightly, about 3 minutes.  Stir in the lemon zest.   Set aside and let cool completely.  The berries will continue to soften and release their color while the syrip cools.

Pour the cooled syrup and berries into a fine sieve set over a pitcher or bowl.  With the back of a spoon or a rubber spatula, press lightly on the berries to extract most of the syrup.  Discard the solids.

Add the lemon juice and 2 1/2 cups cold water to the syrup mixture and stir until well blended.

The lemonade can be served immediately over ice or refrigerated for up to two days.

Yield:  ~7 cups of lemonade

Print This Recipe