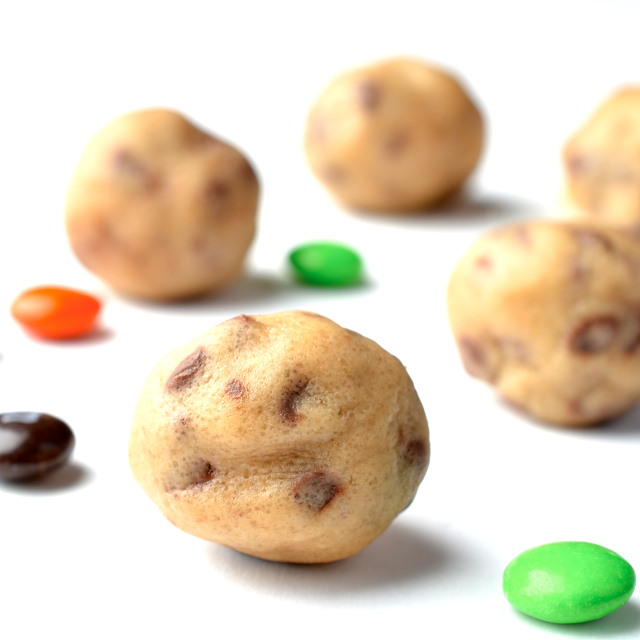 One of my sons has started to enjoy baking. He has a penchant for edible chocolate chip cookie dough, and by edible, I mean the kind that doesn't have raw eggs, so we've been through a lot of cookie dough recipes recently, like cookie dough dip made with mascarpone cheese (not so good) and cookie dough frosting (just ok). This recipe was one of our favorites. My son has made it several times. I wish I could find pasturized eggs in our local supermarket; I then wouldn't mind having our boys eat the raw cookie dough that I make when baking cookies.
I asked him if he had any recipe tips, and his only tip is that you have to really pack the dough together to get it to turn into a ball that maintains some structural integrity. He also said that he prefers them cold from the refrigerator, rather than at room temperature. He has always filled his with M&Ms, although the recipe offers lots of other options.
If you're a raw cookie dough fan like we are, this is the recipe for you.
Stuffed Cookie Dough Bites
Recipe from Wishes and Dishes

1 stick (8 tablespoons) unsalted softened butter
1/2 cup granulated sugar
1/2 cup packed light brown sugar
1 teaspoon pure vanilla extract
1 cup all purpose flour
1/4 teaspoon kosher salt
1 cup mini chocolate chips

Possible Fillings:
Mini Oreo Cookies
Mini Reese's Peanut Butter Cups
Mini Butterfinger
Cubed Brownies
Nutella
Biscoff

Place butter and sugars into a stand or electric mixer. Beat on medium high for 2-3 minutes, until nice and creamy. Add vanilla, beating until well combined. Add flour, salt then chocolate chips, mixing until just combined. Place 1-inch scoops of dough onto a parchment lined counter top. With tip of finger or thumb press into the center of each dough making room for filling. Fill each cookie dough piece with your favorite filling then top with enough dough to cover the filling then form into a ball shape.

Serve bites at room temperature.

Yield: ~18 cookie dough bites

One year ago: Roasted Sweet Potatoes with Pecans and Maple
Three years ago: Chicken and Rice Soup
Four years ago: Cajun Jambalaya
Five years ago: Red Velvet Cupcakes
Six years ago: Chocolate Yogurt Snack Cakes
Seven years ago: Shrimp with Spiced Masala and Coconut Milk
Eight years ago: Breakfast Cookies

Print This Recipe