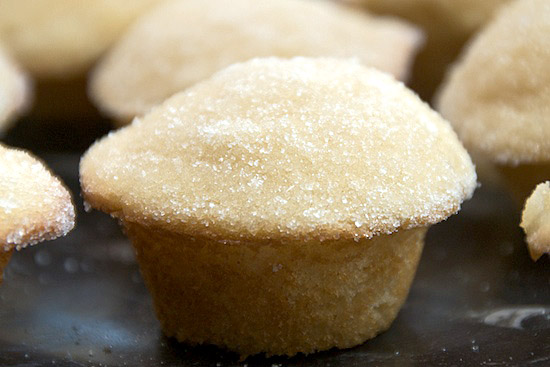 One of my sons had a friend sleep over the other night. He's a huge fan of my baking, so I knew I had to make something really good for breakfast. I decided on Cinnamon Bun Loaf. Doesn't that sound good? Well it wasn't. In fact it was a TOTAL BUST! I couldn't believe it; I had to throw the whole thing away. I actually should have known better since the batter contained yeast, and never once in my life have I successfully cooked with yeast. Each and every time I've tried it a disaster has ensued, and this time was no exception. The bread smelled great when it was cooking, but the batter never rose, and as a result I ended up with this dense, seemingly undercooked slab of disgustion. I know that's not a word, but my husband uses it all the time to describe anything utterly gross and it makes me laugh.
Well, so much for my baking failure.  Thankfully it was quickly followed by a baking success. I made a batch of sugar donut muffins and all was right with the world. I had renewed faith in my baking ability and the kids enjoyed them. Actually I should qualify that – two kids enjoyed them. Our guest and one of my sons. One of my other sons took one bite, smiled, then looked at the muffin, noticed an infinitesmal speck of fresh nutmeg and promptly rejected the rest of the muffin. "What's this brown stuff in the muffin?", he demanded. Now my eyes are pretty good and I could barely see the speck of nutmeg, but I guess his eyes are better than mine because the rest of his muffin was met with flat-out rejection. Once he made his proclamation, two other boys jumped on the bandwagon and rejected theirs as well. This is what I live with everyday. It's crazy. Who rejects a warm, fresh muffin whose top is rolled in sugar? Only someone insane and it looks like I produced three of them.
The directions call for rolling the entire muffin in sugar.  I thought that was a little too over the top, so I just decided to cover the muffin tops in sugar.    They were plenty sweet for me.  I'll definitely make these again.
Sugar Donut Muffins
Recipe from Nicole at Baking Bites

3/4 cup sugar
1 large egg
1 1/2 cups all purpose flour
2 tsp baking power
1/4 tsp salt
1/4 tsp ground nutmeg
1/4 cup vegetable oil
3/4 cup milk (low fat is fine)
1 tsp vanilla extract

2 tbsp butter, melted
1/2 cup sugar, for rolling

Preheat oven to 350F. Lightly grease a muffin tin with cooking spray or vegetable oil.

In a large bowl, beat together sugar and egg until light in color.

In a small bowl, whisk together flour, baking powder, salt and nutmeg. Pour into egg mixture and stir to combine. Pour in vegetable oil, milk and vanilla extract.

Divide batter evenly into 10 muffin cups or ~24 mini-muffin cups, filling each about 3/4 full.

Bake for 15-18 minutes for standard-sized muffins or 11-12 minutes for mini-muffins, until a tester inserted into the center comes out clean.

While muffins are baking, melt butter and pour remaining sugar into a small bowl.

When muffins are done, lightly brush the top of each with some melted butter, remove from the pan and roll in sugar. Cool on a wire rack.

Yield:  ~10 standard muffins or ~24 mini-muffins

Print This Recipe