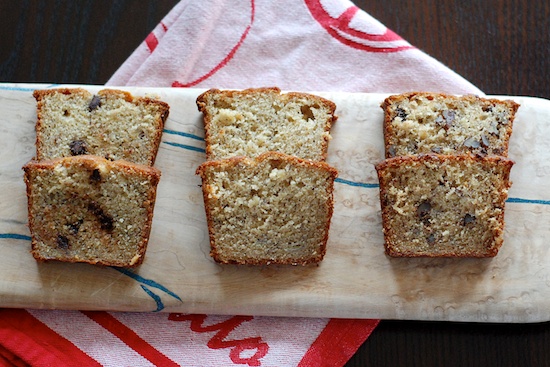 This is the most moist banana bread I have ever made. And there's no butter in it! The secret is coconut oil. I bought some coconut oil a couple of months ago because my husband and a couple of my sons got very dry hands this winter, and I read an article that mentioned that coconut oil was very good for dry skin. My husband found something else that worked well on his hands so he never ended up trying it. When I came across this recipe I was thrilled because I wasn't sure what to do with my jar of coconut oil.
Not only does the coconut oil keep this banana bread incredibly moist, it gives the bread an ever-so-faint taste of coconut. As my grandmother would say, it has the essence of coconut. She used that phrase whenever she went to a restaurant and ordered lobster or shrimp bisque, and she felt that there wasn't enough seafood in it. She'd say that her bisque had the essence of lobster or the essence of shrimp. That always made me laugh.
This recipe calls for two uncommon ingredients: coconut oil and yogurt cheese.   My local grocery store happens to carry yogurt cheese, so I picked up a package to try.   It looks very much like cream cheese, but it has less fat.
If you're wondering why the three pieces of banana bread in the photo look different, it's because I decided to make three mini loafs.   I made one plain, one chocolate chip and one pecan.   I was going to do a taste test to see which one I liked best, but I only ended up trying the plain, which was delicious.   My husband said the chocolate chip loaf was very good, but he said that the bread didn't even need chocolate chips, it was so good on its own.   Next time, I'm sticking with a plain loaf.   You should try this.  It really is the most moist banana bread I've ever eaten.
Super Moist Banana Bread
Recipe from ChezUs.com

1/2 cup virgin coconut oil
1 cup yogurt cheese, or cream cheese
1 cup brown sugar
1 egg
2 bananas, mashed
1 1/2 cups flour
1 teaspoon baking soda
1 teaspoon baking powder
pinch of salt

Heat oven to 350. Line a loaf pan with parchment paper.  Sift the dry ingredients together in a large mixing bowl; set aside. In a mixing bowl, beat the coconut oil on medium speed, until soft; about 7 minutes. Add the yogurt cheese, and continue beating on medium speed, for 3 minutes. Add the sugar, and beat on medium speed, until fluffy; 5 minutes. Add the egg and bananas, mix until combined. Add the dry ingredients, mix on medium speed, until combined; about 3 minutes. Pour into the loaf pan. Bake for 45 – 55 minutes. Each oven is different, start checking at 45 minutes. You want the bread to be golden brown, and a knife will come out clean, when you stick it into the middle of the loaf.

Yield:  One loaf

Print This Recipe