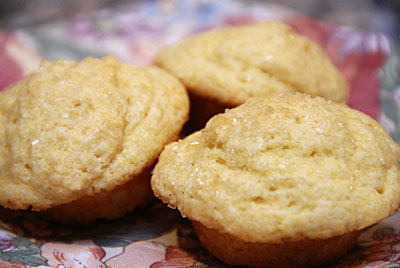 I love to make muffins for the boys' breakfast. One day a year or so ago I was flipping through my most recent issue of Cooking Light and I found this recipe. It's a nice variation on the traditional corn muffin recipe as it's a little sweeter. One of my sons would eat these every morning if I let him. He never gets sick of them.
When I make muffins for the boys, I make them in mini muffin tins (24 cups to a tray). I bought my muffin tins at Williams Sonoma. These corn muffins freeze well and can be quickly microwaved to thaw.
Do you think these muffins count as getting a vegetable into the boys?
Sweet Corn Muffins
From Cooking Light Magazine

1-1/2 cups all-purpose flour
3/4 cup granulated sugar
1/2 cup yellow cornmeal
2 teaspoons baking powder
1/4 teaspoon salt
2/3 cup plain low-fat yogurt (vanilla yogurt works well too)
1/4 cup butter, melted
3 tablespoons fat-free milk
1 large egg, lightly beaten
2 tablespoons turbinado sugar (optional)

Preheat oven to 375°.Lightly spoon flour into dry measuring cups; level with a knife. Combine flour, granulated sugar, cornmeal, baking powder, and salt in a medium bowl, stirring with a whisk. Make a well in center of mixture. Combine yogurt, melted butter, milk, and egg, stirring with a whisk; add to flour mixture, stirring just until moist. 

Place 12 paper muffin cup liners in muffin cups (or spray the 24-cup muffin tin with Pam). Divide the batter evenly among cups. Sprinkle batter evenly with turbinado sugar, if desired. Bake at 375° for 20 minutes (if you're making 12 muffins) or 12 minutes (if you're making mini muffins) or until a wooden pick inserted in center comes out clean. Cool on a wire rack.

Yield: 12 muffins or 24 mini-muffins