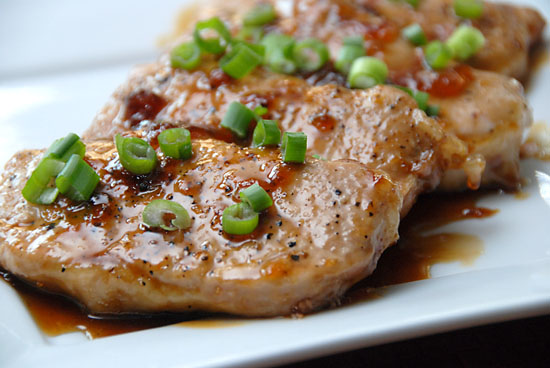 This is an ideal recipe for a weeknight meal when you don't have too much time to cook.   It comes together in less than 15 minutes, and it's incredibly tasty.   Served with rice and a vegetable, it's a fantastic meal.
Want to guess if the boys liked it?   Yep – you got it – not one of them did.   I got one to touch it to his lips and the other three to take minuscule bites, and they all rejected it.  Even the meat eater said he didn't like it, although I don't really think he gave it a fair chance.   Any suggestions to help me get my boys to eat?   If so, I'm all ears and I'll be eternally grateful.
The recipe makes a lot more sauce than is pictured here, and it's really tasty.
Sweet-n-Sour Pork Chops
Recipe by Robin Miller of foodnetwork.com

1 tablespoon sesame oil
Salt and ground black pepper
4 (4-ounce) boneless pork loin chops (about 1″ thick)
1 cup apricot preserves
2 tablespoons reduced-sodium soy sauce
1 teaspoon minced fresh ginger
1/4 cup chopped scallions

Heat oil in a large skillet over medium-high heat. Season pork chops all over with salt and black pepper and add to hot pan. Cook chops 2 minutes per side, until golden brown. Add apricot preserves, soy sauce and ginger and bring to a simmer. Partially cover and simmer 5 minutes, until pork is cooked through. Remove from heat and stir in scallions.

Yield:  4 servings