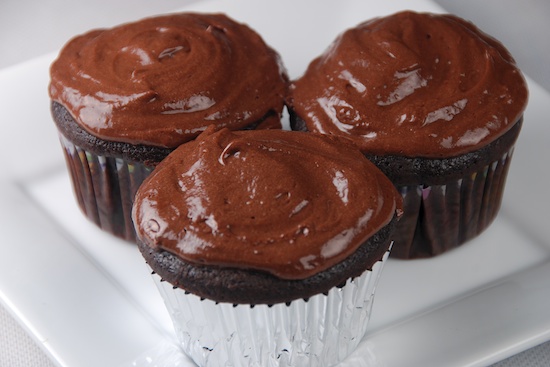 I first made these cupcakes for my sister-in-law Barbara when she came for a visit just after her birthday. The cupcakes are incredibly chocolaty and got rave reviews. Barbara liked them so much, she had one for breakfast for the two mornings that she stayed with us. How's that for a breakfast of champions? Although the directions might look complicated because you have to make three separate things, the batter, the ganache filling and the frosting, they're surprisingly easy to make, albeit a bit time-consuming.
When I made these, I used decaffeinated coffee because I knew my boys would be eating them, and I didn't want them bouncing off the walls. I figured there was enough caffeine in the chocolate without giving them a caffeine-boost from the coffee. The coffee really enhances the chocolate flavor of the muffins.
The second time I made these cupcakes I ran into a little trouble with the frosting. Of course I was making the frosting at 5:40 when we were expected at a dinner party at 6pm. I don't know why, after all these years, I can't make things in advance. I have to wait until the last minute to do everything. This is a trait of mine that drives my mother crazy. My husband suffers from a similar affliction, so it doesn't bother him. Anyway, because I was rushing to make the frosting and frost the cupcakes, I didn't allow enough time for the melted chocolate to cool before I added it to the frosting. Consequently, my light and fluffy frosting became very liquidy. I panicked. I then decided to put the whole bowl into the freezer for a few minutes. Once the frosting had firmed up a bit, I began to whip it again and the consistency was fine. Please learn from me – don't put hot melted chocolate into your frosting mixture.
The Ultimate Chocolate Cupcakes
Recipe from Cook's Illustrated, May 2010

Ingredients for Ganache Filling:
2 ounces bittersweet chocolate , chopped fine
1/4 cup heavy cream
1 tablespoon confectioners' sugar

Ingredients for Chocolate Cupcakes:
3 ounces bittersweet chocolate , chopped fine
1/3 cup (1 ounce) Dutch-processed cocoa
3/4 cup hot coffee
3/4 cup (4 1/8 ounces) bread flour
3/4 cup (5 1/4 ounces) granulated sugar
1/2 teaspoon table salt
1/2 teaspoon baking soda
6 tablespoons vegetable oil
2 large eggs
2 teaspoons white vinegar
1 teaspoon vanilla extract

Ingredients for Frosting:
1/3 cup (2 1/3 ounces) granulated sugar
2 large egg whites
Pinch table salt
12 tablespoons (1 1/2 sticks) unsalted butter , softened and cut into 1-tablespoon pieces
6 ounces bittersweet chocolate , melted and cooled
1/2 teaspoon vanilla extract

Directions for Ganache Filling: Place chocolate, cream, and confectioners' sugar in medium microwave-safe bowl. Heat in microwave on high power until mixture is warm to touch, 20 to 30 seconds. Whisk until smooth; transfer bowl to refrigerator and let stand until just chilled, no longer than 30 minutes.

Directions for Cupcakes: Adjust oven rack to middle position and heat oven to 350 degrees. Line standard-size muffin pan (cups have ½-cup capacity) with baking-cup liners. Place chocolate and cocoa in medium bowl. Pour hot coffee over mixture and whisk until smooth. Set in refrigerator to cool completely, about 20 minutes. Whisk flour, sugar, salt, and baking soda together in medium bowl; set aside.

Whisk oil, eggs, vinegar, and vanilla into cooled chocolate-cocoa mixture until smooth. Add flour mixture and whisk until smooth.

Divide batter evenly among muffin pan cups. Place one slightly rounded teaspoon ganache filling on top of each cupcake. Bake until cupcakes are set and just firm to touch, 17 to 19 minutes. Cool cupcakes in muffin pan on wire rack until cool enough to handle, about 10 minutes. Carefully lift each cupcake from muffin pan and set on wire rack. Cool to room temperature before frosting, about 1 hour.

Directions for Frosting: Combine sugar, egg whites, and salt in bowl of stand mixer; place bowl over pan of simmering water. Whisking gently but constantly, heat mixture until slightly thickened, foamy, and registers 150 degrees on instant-read thermometer, 2 to 3 minutes.

Place bowl in stand mixer fitted with whisk attachment. Beat mixture on medium speed until consistency of shaving cream and slightly cooled, 1 to 2 minutes. Add butter, 1 piece at a time, until smooth and creamy. (Frosting may look curdled after half of butter has been added; it will smooth with additional butter.) Once all butter is added, add cooled melted chocolate and vanilla; mix until combined. Increase speed to medium-high and beat until light, fluffy, and thoroughly combined, about 30 seconds, scraping beater and sides of bowl with rubber spatula as necessary.

To frost cupcakes, mound 2 to 3 tablespoons frosting on center of each cupcake. Using small icing spatula or butter knife, spread frosting to edge of cupcake, leaving slight mound in center.

Yield:  12 cupcakes

Print This Recipe