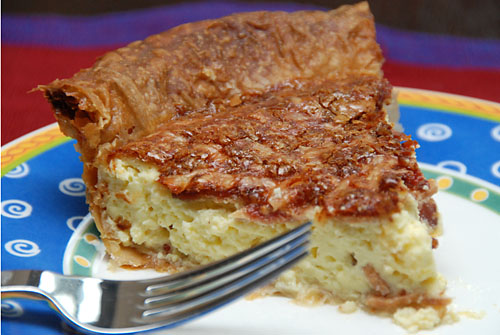 I traditionally make this quiche on Christmas morning.   It's incredibly rich and delicious, and if you have the bacon already crumbled and the cheese grated, it's a cinch to throw together.   I make it, toss it in the oven and we begin to open presents while it cooks.
The crust is puff pastry, and in my opinion you can't have a better crust for a quiche.
If you're having a brunch and want to impress your friends, you must make this quiche.   I have gotten nothing but rave reviews from everyone that has tried it.   Well, almost everyone.    Two of my sons tried it.   One loved it and the other didn't.   I was thrilled that they were willing to try it and I was incredibly happy that one of them liked it.   I'm making progress!
The Ultimate Quiche
From The Gourmet Cookbook, edited by Ruth Reichel

3/4 pound (12 slices) bacon
1 sheet frozen puff pastry, thawed
6 large eggs
2 ten-ounce containers of creme fraiche
1/2 teaspoon salt
1/8 teaspoon freshly graded nutmeg
1 cup grated Gruyere (about 4 ounces)

Special equipment: an 8 inch deep dish (2 inches deep) fluted quiche pan with a removable bottom or a 9 inch ceramic quiche dish.

Put a baking sheet on middle oven rack and preheat oven to 375 degrees

Cook bacon in a 12 inch heavy skillet over moderate heat, stirring occasionally, until crisp, about 10 minutes. Transfer to paper towel and drain.

Roll out pastry on a lightly floured surface into a 13 inch square.  Fit pastry into dish and roll rolling pin over top to trim pastry flush with rim if using a metal pan, or rim with a knife if using a ceramic dish.

Whisk eggs in a medium bowl until well combined, then whisk in creme fraiche, salt and nutmeg just until smooth. Pour filling through a fine-mesh sieve into pastry shell.  Use your hands to crumble bacon and sprinkle it evenly over filling. Top with Gruyere.

Bake quiche on heated baking sheet until center is set (it should not jiggle when shaken), 45 minutes to 1 hour.   Transfer to a rack to cool to warm or room temperature.  If using a quiche pan, remove rim of pan before serving.

Yield:  8 servings

Print This Recipe