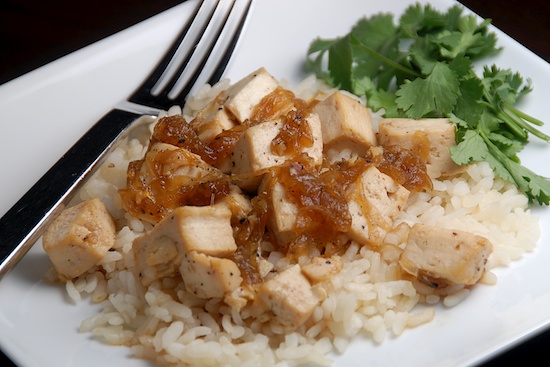 Yesterday I made 60 cupcakes. The triplets turn 8 tomorrow and I had to bring cupcakes into school for the class celebrations. I made cupcakes in ice cream cones, frosted them and put M&Ms on top at the boys' request. The kids inhaled them!
Since yesterday was Friday and it's Lent, I needed a meatless meal for dinner. I wasn't in the mood to cook anything elaborate because I had spent my whole morning making cupcakes so I turned to this recipe by Mark Bittman. I'm a huge Bittman fan. His recipes are quick, easy and very tasty, and this one is no exception. I'm not a tofu fan, but after reading Mark Bittman's description of the dish I knew I had to try it, and I'm glad I did.   I'll definitely make this often.
This recipe has so much flavor. It explodes in your mouth. It's a very interesting flavor – sweet, sour and spicy all at the same time. It's like nothing I have tasted before. My husband and I ate the leftovers today and we wished there were more.
Here are a couple of tips. Watch the sugar carefully so you don't burn it. My sugar started to look very dry and crusty, so I stirred it so I could see the liquid sugar underneath. The stirring didn't seem to hurt anything. I sliced my onions with a mandolin to they were really thin which I thought was perfect for the recipe. Make sure your tofu is firm so it doesn't fall apart while cooking.   The recipe calls for either Asian fish sauce or soy sauce.   Definitely try the Asian fish sauce.
This recipe doesn't take long to put together and cook.  Watch out though, your home will smell terribly while it's cooking.   Have a candle ready to burn to counteract the fumes.   This is a perfect dish for a Friday in Lent or anytime you want a meatless meal.
Ok, think the boys tried it? Of course not.

Tofu and Onions in Caramel Sauce
Recipe by Mark Bittman


1/2 cup sugar
1/4 cup nam pla (Asian fish sauce) or soy sauce
1 large onion, thinly sliced
1 teaspoon freshly ground black pepper, or to taste
1 pound firm tofu, cut into chunks of 3/4 inch to 1 inch
1 tablespoon butter, optional
1 tablespoon lime juice or vinegar, or to taste
Salt if necessary
White rice for serving.

Put sugar and a tablespoon of water in a 10- or 12-inch skillet, preferably nonstick, over medium heat. Cook, shaking pan occasionally, until sugar melts and browns a bit. Turn off heat, and carefully add nam pla or soy sauce. Turn heat to low, and add onion. Cook, stirring, 5 to 10 minutes, until onion is very tender. Add pepper and tofu.

Gently simmer, turning tofu once or twice in sauce so it is glazed and heated through, about 10 minutes. Stir in butter, along with lime juice or vinegar. Taste, and add salt, more pepper or lime juice or vinegar if you like. Serve immediately over rice.

Yield: 4 servings.

Print This Recipe