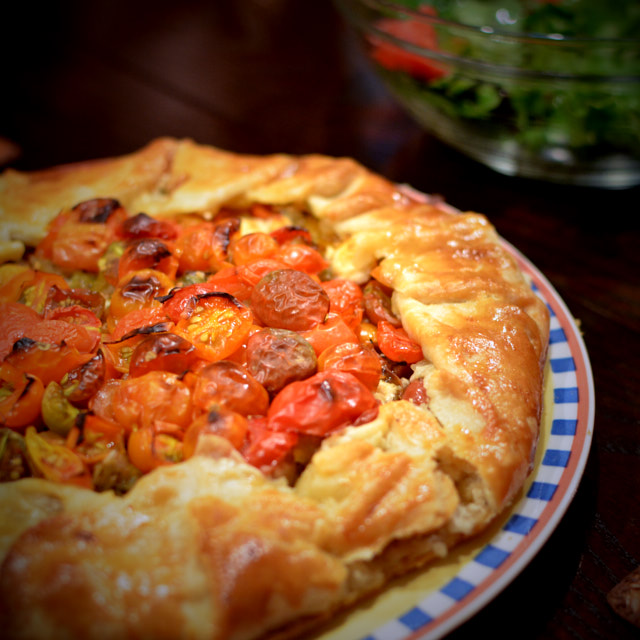 This is one of my favorite galette recipes. What is a galette, you ask? According to cookbook author David Leibovitz, "Galette is a term used in French cuisine to designate various types of flat round or freeform crusty cakes." My favorite part of that definition is the word freeform, which screams rustic, meaning it doesn't have to be perfect. Galettes can be either sweet or savory. This one is savory and it's especially delicious at the end of the summer through the very early fall in the Northeast, when tomatoes are at their peak. It helps to have fresh herbs, either marjoram or oregano, as well.
This is not a difficult dish to make, but it takes some time because the dough needs to chill and the tomatoes need to drain for about 45 minutes before you can start to assemble the galette. If you can plan in advance, this recipe is well worth the effort. The vegetables have a lot of flavor, and this dish is surprisingly good heated up the next day as a leftover. I even put a slice in the microwave and it was delicious. I usually reheat recipes with bread or pastry in the oven, but this was just fine reheated in the microwave.
A food processor will allow you to make the dough in a matter of minutes. The original recipe calls for fresh marjoram. I couldn't find any, so I used fresh oregano instead. I loved the flavor of the oregano with the tomatoes and leeks.
The boys wouldn't touch it, as usual. I'm just waiting for the day when one of them tells me they like something like this. I can't tell you how happy I'll be.
Tomato, Melted Leek and Feta Galette
Recipe from Fine Cooking Magazine, Issue 142

Galette dough:

1 1/2 cups unbleached all-purpose flour
1/2 teaspoon granulated sugar
1/4 teaspoon kosher salt
9 Tablespoons cold unsalted butter, cut into 1/2-inch pieces
4 to 5 Tablespoons ice water

Filling:

1-1/4 lb. cherry or grape tomatoes, preferably a mix of colors, halved or quartered, depending on size
Kosher salt
3 Tablespoons extra-virgin olive oil
4 medium leeks, white and light-green parts only, sliced lengthwise, then thinly sliced crosswise, and well rinsed
All-purpose flour, for rolling the dough
Freshly ground black pepper
1 large egg
1 teaspoon heavy cream or whole milk
4 oz. good-quality crumbled Feta cheese (approximately 1 cup)
2 teaspoons chopped fresh marjoram or oregano
Flaky sea salt

Make the galette dough using a food processor. Add the flour, sugar and salt to the bowl of a food processor. Pulse to combine. Add the butter pieces, and pulse until the mixture looks like coarse meal with some pea-size pieces. Sprinkle with 4 Tbs. of the water, and pulse until the dough comes together. If too dry, add the remaining water by the teaspoon, and pulse until the dough just comes together. Flatten the dough into an 8″ disk, wrap in plastic wrap and refrigerate for at least 30 minutes.

Put the tomatoes in a colander in the sink or over a bowl, and toss with 1-1/2 teaspoons salt. Let drain for at least 45 minutes to release excess juice. Heat the oil in a 12-inch skillet over medium heat. Add the leeks, 1/4 teaspoon salt, and 1/4 teaspoon pepper; spread in an even layer, reduce the heat to low, and cook, covered, without stirring until the leeks begin to soften, about 5 minutes. Uncover and cook, stirring occasionally, until very tender, 10 to 15 minutes more. Transfer to a plate and let cool completely.

Meanwhile, position a rack in the center of the oven and heat the oven to 400°F. Let the dough sit at room temperature until pliable, 10 to 15 minutes.

In a small bowl, whisk the egg and cream.

Roll the dough between 2 sheets of lightly floured parchment paper into a 14-inch round, loosening the parchment from the dough occasionally and adding a bit more flour if it sticks. Transfer on the parchment to a baking sheet; remove and discard the top sheet of parchment.

Leaving a 2-inch border, sprinkle half of the cheese, half of the leeks, half of the tomatoes, 1 teaspoon of the marjoram or oregano, 1/4 teaspoon of the pepper, and a generous pinch flaky sea salt over the dough. Repeat with remaining ingredients.

Fold the edge of the dough up and over the filling. If the dough is sticking to the parchment, refrigerate it for 5 to 10 minutes, and then continue folding. Brush the folded dough with the egg wash. Bake, rotating the baking sheet once half-way through, until the crust is golden brown, 40 to 50 minutes. Let cool on a rack for 10 to 15 minutes. Serve warm or at room temperature.

Yield: ~8 slices

One year ago: Toasted Israeli Couscous Salad with Mint, Cucumber, and Feta
Two years ago: Homemade Ice Cream Sandwiches
Three years ago: Chickpea Vegetable Stew
Four years ago: Apple Chips
Five years ago: Oatmeal Cookies with Tart Cherries and White Chocolate
Six years ago: Smoked Chili Scalloped Sweet Potatoes
Seven years ago: Billy's Vanilla, Vanilla Cupcakes
Eight years ago: Frosted Pumpkin Muffins

Print This Recipe