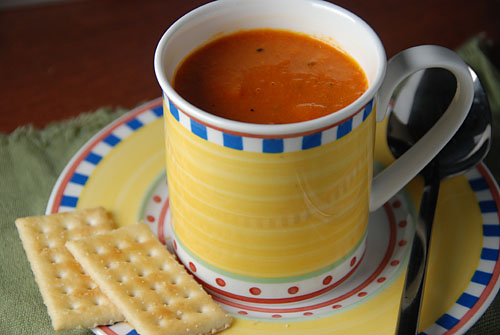 I come across recipes all over the place and if they're online I bookmark them.   My bookmarked recipe folder is huge, but I'm working through it.    I found this recipe on the Culinate website.   I love their site for two reasons: because of the articles/recipes they publish and because they often have giveaways. I actually won something in December. For commenting on one of their cookie recipes I won a beautiful cookbook called Pure Dessert by Alice Medrich and a sampler pack from Bob's Red Mill. The pack I won contained several gluten-free mixes and flours. I'll let you know how they are when I use them.   Check out Culinate.   For the first three months of this year they're giving away a cookbook each week.
This Tomato Orange Soup recipe is very easy, quick and delicious. If you like tomato soups at all, this recipe is worth a try. The orange juice adds some nice depth to the flavor. This would be perfect paired with a grilled cheese sandwich on a cold day!
Tomato Orange Soup
From Culinate.com

3 Tbsp. unsalted butter
1/2 medium onion, finely chopped
1 can (28 ounces) unsalted diced or whole tomatoes, chopped, with juice
1 tsp. kosher salt
1/2 tsp. freshly ground pepper
1/4 tsp. baking soda
1 tsp. fresh thyme leaves
1 cup fresh orange juice
1/2 cup whole milk or half-and-half

Melt the butter in a stockpot or large saucepan; add onions and sauté over medium heat until they begin to soften. Add tomatoes, salt, pepper, baking soda, and thyme. Bring to a boil, lower heat to a simmer, and cook uncovered for 15 minutes, or until slightly thickened.
Purée with an immersion blender or in a food processor or blender. (If using a blender, avoid burning yourself by only filling up the container halfway before blending.) If desired, strain soup through a sieve.

Return soup to pot and stir in orange juice and milk or half-and-half. Bring to a simmer and taste for seasoning, adding more salt, pepper, and milk or half-and-half to your liking.  Serve hot.

Serves 4.

Print This Recipe