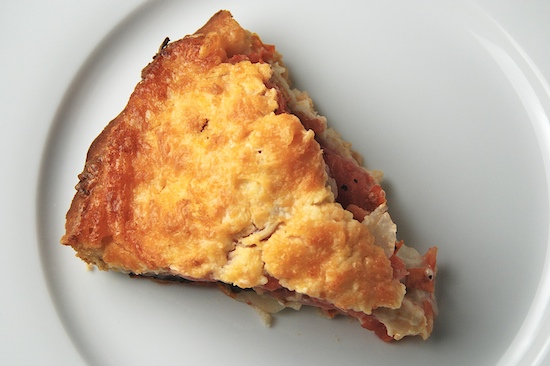 This recipe is from the NPR How Low Can You Go Family Challenge.   NPR invited a number of chefs to submit recipes that serve four and cost under $10.   This recipe was the winner!   I followed the recipe exactly, right down to the Bisquick!   Now Bisquick isn't my favorite, but I wanted to see why this recipe won so I used it.    I'll definitely make this again because my husband LOVED it, but I'll play around with the crust next time and I definitely won't use Bisquick.
My husband wasn't thrilled when I told him we were having tomato pie for dinner.   The thought of a big soggy pile of tomatoes in a pie crust just didn't appeal to him, but once he tasted it he was sold.   At first, he thought the pie had meat in it, it's so rich.    I loved the combination of the tomatoes, the thinly sliced Vidalia onions and the basil.   It's really a perfect summer meal, and it's surprisingly filling.   The topping is the pièce de résistance that pulls the pie together.
You can read about the recipe here.  You should try it, especially now when the tomatoes are approaching their peak.
Tomato Pie
From Kathy Lloyd, Pittsfield, MA

Bisquick
2 – 3 tomatoes, sliced (~ 2 pounds)
1 bunch basil
1 Vidalia onion, sliced thinly using a mandoline
Salt and Pepper
1 cup mayonnaise
2 cups shredded cheddar cheese

Make 1 biscuit recipe from the Bisquick box.

Use as a pie crust and bake it. Place either ceramic baking beads or another pie plate on top of it to keep it from rising out of control.

Layer in the pie crust (really high) the sweet onions sliced pretty thin (generally 1 big one) and the garden fresh tomatoes not too thin (about 2 lbs). Season each layer of tomatoes with salt, fresh cracked pepper and fresh basil.

Make a top crust with 2 cups shredded cheddar and 1 cup mayo. Mix the cheese and mayo with your hands and squish it all over the pie like a top crust.

Bake at 350 degrees for 45 minutes to an hour or until the top is brown and bubbly.

Serves:  4 – 6

Print This Recipe