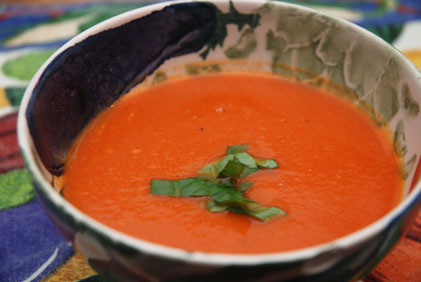 If you have too may tomatoes at the end of the summer, surprisingly this recipe is not for you.  It calls for two great big cans of tomatoes, nothing fresh except the basil on top of the soup.
I love a good tomato soup recipe, especially a recipe like this one that contains no cream.   This recipe uses bread to thicken it up instead.   I must admit that I actually like tomato soup made with cream, but I have a number of lactose-intolerant friends and relatives so this is a nice alternative for them.
I made this soup a couple of weeks ago when I wanted a purely vegetarian meal.  I served it with this frittata and it was a nice, light, delicious dinner.    I let the soup simmer on the stove as I made the frittata, and I think the extra cooking gave the soup more depth.   If you don't feel like making a frittata, I think this soup would go well with a nice warm grilled cheese sandwich, or any sandwich for that matter.    One of my favorite NY lunches is a half-sandwich and a small cup of soup.
Creamless Creamy Tomato Soup
From Cooks Illustrated September-October 2008

1/4 cup extra-virgin olive oil, plus more for drizzling
1 medium onion, chopped medium (about 1 cup)
3 medium garlic cloves, minced or pressed through garlic press (about 1 tablespoon)
Pinch hot red pepper flakes (optional)
1 bay leaf
2 (28-ounce) cans whole tomatoes packed in juice
1 tablespoon brown sugar
3 large slices good-quality white sandwich bread, crusts removed, torn into 1-inch pieces
2 cups low-sodium chicken broth
2 tablespoons brandy (optional)
Table salt and fresh ground black pepper
1/4 cup chopped fresh chives

Heat 2 tablespoons oil in a Dutch oven over medium-high heat until shimmering.   Add onion, garlic, red pepper flakes (if using) and bay leaf.  Cook, stirring frequently, until onion is translucent, 3 to 5 minutes.  Stir in tomatoes and their juice.  Using a potato masher, mash until no pieces bigger than 2 inches remain.  Stir in sugar and bread, bring soup to a boil.   Reduce heat to medium and cook stirring occasionally, until bread is completely saturated and starts to break down, about 5 minutes.  Remove and discard bay leaf.

Transfer half of soup to blender.  Add 1 tablespoon oil and process until soup is smooth and creamy, 2 to 3 minutes.  Transfer to large bowl and repeat with remaining soup and oil.   Rinse out Dutch oven and return soup to pot.  Stir in chicken broth and brandy (if using).  Return soup to boil and season to taste with salt and pepper.  Serve soup in individual bowls.  Sprinkle each portion with pepper and chives and drizzle with olive oil.

Diane's notes:   I didn't have fresh chives on hand, but I did have a lot of basil, so I topped the soup with chopped, fresh basil instead.   Also, an immersion blender will work in lieu of the regular blender.

Serves 6 to 8

Print This Recipe