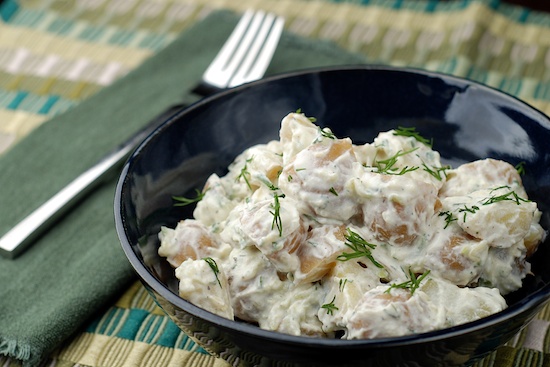 I love a good potato salad in the summer. I also love trying new recipes, so this tzatziki potato salad was the perfect combination.
Tzatziki is a Greek/Turkish sauce that's made from strained yogurt (aka Greek yogurt) and served as an accompaniment to something else or with bread. It's also served as a sauce with gyros and souvlaki. It's delicious as a sauce for potato salad, especially if you aren't a fan of mayonnaise.
I made this the other day, expecting to end up with a small bowl of potato salad. When all was said and done, I ended up with what seemed like enough potato salad to feed an army. I live with an army of small men, but unfortunately they don't eat much of anything, so my army wasn't very effective against the quantity of potato salad that I produced. I ended up giving away containers of the salad to friends because my husband and I can only eat so much of it.
I used tiny yellow potatoes for this recipe. The skin was so thin that I didn't need to peel them. You can use any type of boiling potato for this recipe. The recipe calls for 2 teaspoons of Kosher salt. I know that when a recipe comes from Ina Garten, that the salt quantity can be high, so I only used a teaspoon of salt when I made the sauce. Once all was said and done, the potato salad needed salt, so I added the second teaspoon.
I'll definitely make this again during the summertime, especially if we have visitors that don't like mayonnaise.
Tzatziki Potato Salad
Recipe from Smitten Kitchen, who adapted it from Ina Garten

4 pounds potatoes (if the skin is thin, no need to peel them – I used tiny potatoes)
1 3/4 cups Greek yogurt
1/4 cup sour cream
2 tablespoons freshly squeezed lemon juice
1 tablespoon white wine or champagne vinegar
1 tablespoon minced fresh dill
1 medium garlic clove, minced
2 teaspoons kosher salt
Freshly ground black pepper
1 hothouse or English cucumber (1 pound), unpeeled but quartered lengthwise, seeds removed

In a medium pot, cover your potatoes with cold water and bring them to a boil over high heat. Once boiling, reduce heat to medium-high and let potatoes simmer until tender enough that they can be pierced easily with a skewer or slim knife. If your potatoes are small, this should take about 20 minutes or so. Drain potatoes and let them cool completely.

Meanwhile, in the bottom of a large bowl, stir together yogurt, sour cream, lemon juice, vinegar, dill, garlic, salt and lots of freshly ground black pepper.

Grate the cucumber on a box grater or in the food processor (using the grating blade) and remove some of the excess by pressing it in a mesh sieve with a spoon or wringing it in a square of cheesecloth or a lint-free dishtowel. Add to yogurt mixture.

Once potatoes are cool, cut them into chunks. Add to sauce and stir to coat. Adjust seasonings to taste. Either eat immediately or keep in the fridge for up to three days.

Yield: ~10 servings

One year ago: Vanilla Bean Sables
Two years ago: Chocolate Hazlenut Biscotti

Print This Recipe