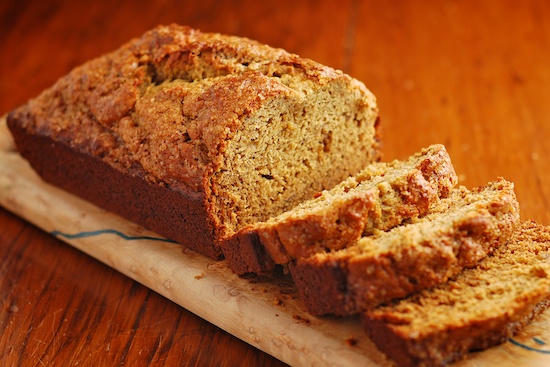 This recipe comes from the August 2010 issue of Cooks Illustrated. Have I mentioned how much I enjoy reading the magazine? One recipe is better than the next. I typically try several new recipes from each issue.
When coming up with this recipe, the folks at Cooks Illustrated tried to see how many bananas they could cram into in a single loaf without losing the structural integrity of the bread. They succeeded in using 5 bananas in each loaf, with a sixth banana used to decorate the top. Not bad!
I usually add chocolate chips to my banana bread, but I decided that the first time I tried this recipe, I'd follow the directions exactly. I plan to make another loaf tomorrow, and this bread is so delicious, I'm going to leave it as it is and not put any chips into it. It doesn't need them.
Make sure that your bananas are very ripe when you use them for this bread. I wait until the skin on mine is almost entirely black. The more the bananas ripen, the sweeter they get. Once my bananas get almost black, I throw them in the freezer if I don't intend to use them immediately.
When I made this bread, I chose not to use the 6th banana, so I didn't have sliced bananas on the top of mine. I don't think I missed anything.  Oh, I didn't add the nuts either because my boys don't like nuts in things.   It was still delicious.

Ultimate Banana Bread
Recipe from Cooks Illustrated Magazine, August 2010 issue

1 3/4 cups all-purpose flour
1 teaspoon baking soda
1/2 teaspoon table salt
6 large (about 2 1/4 pounds) very ripe bananas, peeled
8 tablespoons (1 stick) unsalted butter, melted and cooled slightly
2 large eggs, slightly beaten
3/4 cup packed light brown sugar
1 teaspoon pure vanilla extract
1/2 cup walnuts or pecans, toasted and coarsely chopped
2 teaspoons turbinado sugar

Preheat oven to 350 degrees F. Adjust oven rack to middle position. Spray one 8 1/2 by 4 1/2 inch loaf pan with nonstick cooking spray. You can also make this in a 9 x 5 inch loaf pan. If you use this larger pan, decrease the cooking time by at least 5 minutes.

Whisk flour, baking soda and salt together in a large bowl.

Place five (5) bananas in a microwave-safe bowl; cover with plastic wrap and cut several steam vents in the plastic wrap with a paring knife. Microwave on high until the bananas are soft and have released liquid, approximately 5 minutes. Transfer the bananas to a fine-mesh strainer placed over a medium bowl and allow to drain, stirring occasionally, for 15 minutes. You should have 1/2 to 3/4 cup liquid after straining. If you are using frozen bananas, there is no need to microwave them. Put them directly in a strainer over a bowl and let them drain.

Transfer liquid to medium saucepan over medium heat until it's reduced to approximately 1/4 cup. This should take about 5 minutes. Remove pan from heat and stir in the drained bananas; mash with a potato masher until fairly smooth. Whisk in the melted butter, eggs, brown sugar, and vanilla.

Pour the banana mixture into the flour mixture and stir until just combined with some streaks of flour remaining. Gently fold in the walnuts or pecans, if using. Pour the batter into the prepared bread pan.

Slice the remaining banana diagonally into 1/4-inch-thick slices. Shingle the banana sliced on top of both sides of the loaf, leaving 1 1/2-inch-wide space down the center to ensure even rising. Sprinkle 2 teaspoons of sugar evenly over the top of the loaf.

Bake 55 to to 75 minutes or until a toothpick inserted in the center comes out clean. Cool bread in pan on wire rack for 15 minutes, then remove the loaf from the pan and continue to cool on the wire rack. Serve warm or at room temperature.

Yield: 1 loaf

Print This Recipe