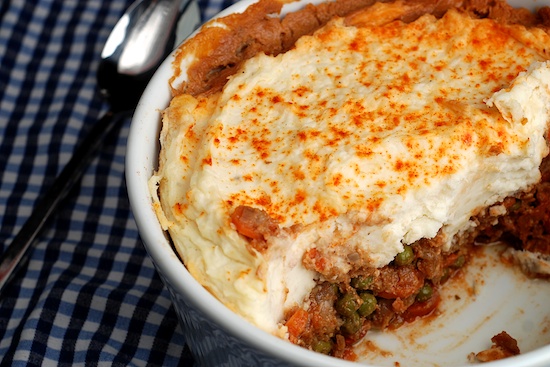 The weather has been a little wacky in NYC this month. We had some unseasonably warm weather in March. Unfortunately that didn't continue in April, which has been quite cold. After March, I thought I'd be able to put our winter clothes away. No such luck. Anyway, I mention the weather because I made this great Shepherd's Pie the other day. It's something I'd tend to make during the winter months, but we've had some pretty chilly April days, making me want to turn the oven on.
This Shepherd's Pie is totally vegetarian and you won't even miss the meat. It has chopped up veggie burgers in it, which make it seem like you're eating meat. My friend Chris mentioned the recipe to me a couple of weeks ago, and she raved about it, so I knew I had to try it. I found the recipe online. It's from a vegan cookbook. You can easily make this a vegan dish, but mine became vegetarian as I tossed a block of cream cheese into my mashed potatoes along with some butter and heavy cream. (They were delicious!) Leave the dairy out of your mashed potatoes and you have a perfect vegan entree.
The recipe calls for mushrooms. I don't like mushrooms, so I substituted extra carrots. I also had a half pint of grape tomatoes that were starting to look a little tired, so I tossed those in as well. You can play with the vegetables as you like. The grape tomatoes were ok in this recipe, but I'm not sure I'd toss them in next time I make this. The recipe also calls for marjoram, which I didn't have, so I tossed in some dried oregano instead.  I found that I had to add a little more vegetable broth as the veggies were cooking because they started looking a little dry to me.
I recommend putting the Shepherd's pie on a cookie sheet when you bake it.   I didn't use one and mine bubbled over the side of the dish and ended up burning on the bottom of my oven.
I loved this so much that I'm planning to make it again this week. It's great hot out of the oven, or as microwaved leftovers.  It's really so good.
Ultimate Shepherd's Pie
Recipe from GlobalVeganKitchen.com

2 tablespoons olive oil
1 large yellow onion, chopped
1 large carrot, chopped
4 ounces white mushrooms, chopped
1 tablespoon tomato paste
2 tablespoons tamari soy sauce (or regular soy sauce)
3/4 cup Vegetable Stock
1 teaspoon minced fresh thyme or 1/2 teaspoon dried
1 teaspoon minced fresh marjoram or 1/2 teaspoon dried
Salt and freshly ground black pepper
2 teaspoons cornstarch dissolved in 1 tablespoon cold water
3 vegetarian burgers, thawed and chopped
1/2 cup frozen peas, thawed
1/4 cup ground walnuts
3 cups mashed potatoes
1/4 teaspoon sweet paprika

Preheat the oven to 375 degrees F. Heat 1 tablespoon of the oil in a large skillet over medium heat. Add the onion and carrot. Cover and cook until tender, about 5 minutes. Add the mushrooms and cook 3 minutes longer, stirring occasionally.

Stir in the tomato paste, soy sauce, vegetable stock, thyme, marjoram, and salt and pepper to taste. Stir in the cornstarch mixture and simmer to thicken slightly, about 1 minute.

Spoon the filling mixture into a lightly oiled 2-quart baking dish. Stir in the chopped burgers, the peas, and the walnuts. Taste to adjust seasonings.

Spread the mashed potatoes over top. Sprinkle with paprika. Bake until hot and bubbly and the top is golden brown, about 30 minutes.

Yield: 4 servings

Print This Recipe