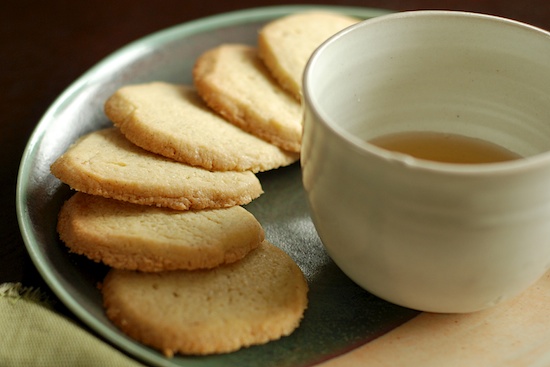 These cookies taste exactly like the Danish butter cookies that my mom buys at Christmas time. They come in a blue metal tin. If you like butter cookies like that, I think you'll really enjoy these. Sables are actually not Danish, they're a French butter cookie. They're quite tender – not crispy at all, and with a nice flavor. If you make them, make sure that the dough is spaced at least 2″ apart because it spreads. A bunch of the cookies ran into each other on one of my trays because I put them too close together. When I put them on the tray, I thought they'd be more like shortbread and maintain their structural integrity a bit more than they did.
These cookies have to chill in the refrigerator for at least 2 hours, so don't try to make these right before you need/want them.
You really need vanilla beans to make this recipe correctly. It's funny – when one of my sons tried a cookie, he thought the black specks in the cookies were dirt. He got a quick education on vanilla beans.
Vanilla Bean Sables
Recipe from seriouseats.com

2 sticks unsalted butter at room temperature
1/2 cup granulated sugar
2 vanilla beans, seeds reserved
1/4 cup confectioner's sugar
1/2 teaspoon kosher salt
2 large egg yolks, at room temperature
1 teaspoon vanilla extract
2 cups all-purpose flour

In a small bowl, rub together vanilla bean seeds and granulated sugar.

In a large bowl, beat butter until creamy, about two minutes. Beat in vanilla sugar mixture and confectioners sugar until smooth (but not fluffy), about one minute. Add egg yolks and vanilla extract and beat until blended, about one minute. Beat in flour until just combined.

Divide dough into two equal balls. Roll each ball into an 8 inch-long log. Wrap each log in plastic wrap and let rest in fridge for at least two hours.

Preheat oven to 350°F. Line two baking sheets with parchment paper. Cut each log of dough into 1/3 inch-thick circles. Place the circles of dough at least 2 inches from each other. Bake cookies until golden brown around edges, about 18 minutes.


Yield: ~3 dozen cookies

One year ago: Chocolate Hazlenut Biscotti

Print This Recipe