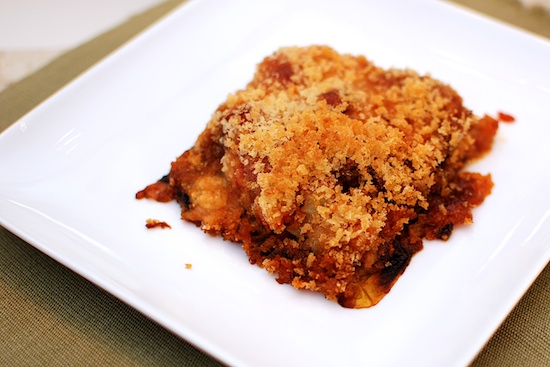 I love finding delicious vegetarian meals. The more I read, the more that I think my sons' diets of fruit and nuts aren't so bad after all. I'm always trying to get them to take a bite of chicken or beef, but two of the four patently refuse. If I could get them to eat something like this, loaded with vegetables and cheese, I'd have no problem with them refusing meat.
I was a little nervous about putting a whole layer of fennel into the parmigiana, but it was really delicious. With all of the other ingredients, I didn't really notice the taste of the fennel standing out. It just added some depth to the taste.   Next time I make this, I might roast some Vidalia onion slices and add them to the parmigiana as well.  Yum!
The original recipe called for grilling the vegetables. That might be easy if you have a barbeque, but I decided to roast the vegetables. It was a lot easier. I tossed them with olive oil, added a little salt and pepper and roasted them in the oven.  Despite the fact that this is a vegetarian recipe, it's quite filling. Serve it with a green salad and you have a perfect meal.
Vegetable Parmigiana
Recipe adapted from Giada DeLaurentiis on foodnetwork.com

Butter, for greasing
Olive oil, for drizzling
Kosher salt and freshly ground black pepper
1 medium eggplant, peeled and cut into 1/4 to 1/2-inch thick slices
2 medium fennel bulbs, trimmed and sliced into 1/4-inch thick pieces
1 red bell pepper, cut into thirds
1 yellow bell pepper, cut into thirds
1 orange bell pepper, cut into thirds
1 (26-ounce) jar marinara sauce
3 cups shredded mozzarella cheese
1 cup grated Parmesan
1 cup Panko bread crumbs

Preheat the oven to 425 degrees F. Grease a couple of rimmed baking sheets and butter a 9″ x 13″ dish.

Put the eggplant slices, fennel slices and peppers in a large bowl. Toss with olive oil and salt and pepper. Make sure that all of the vegetables are coated with olive oil. Put the vegetables in a single layer on the baking sheets and cook for 10-12 minutes. After 10 minutes, remove the baking sheet from the oven and check the bottom of a couple of vegetables. If they are a nice deep brown, flip them over and cook for another 10 minutes or until the bottoms are browned. When the vegetables are cooked, remove them from the oven and reduce the oven temperature to 375 degrees F.

Spoon 3/4 cup of the marinara sauce over the bottom of the prepared baking dish. Arrange the eggplant slices on top. Sprinkle with 1 cup of mozzarella cheese and 1/3 cup Parmesan cheese. Arrange the peppers in a single layer on top. Spoon 3/4 cup of marinara sauce over the peppers. Sprinkle with 1 cup of mozzarella cheese and 1/3 cup Parmesan cheese. Arrange the fennel on top and cover with the remaining sauce. Sprinkle with the remaining cheese. Scatter the bread crumbs over the cheese and drizzle liberally with oil. Bake until the top is golden and forms a crust, about 30 to 35 minutes

Remove from the oven and cool for 10 minutes before serving.

Yield: 4 – 6 servings

One year ago: The Ultimate Chocolate Cupcakes
Two years ago: Snickerdoodle Blondies

Print This Recipe