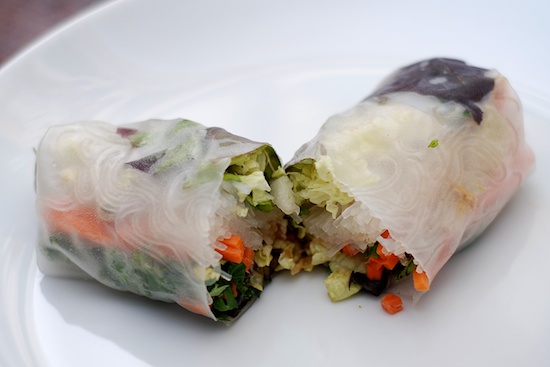 This is another one of my favorite recipes of the summer.     The flavors explode in your mouth when you take a bite.   There is really nothing better than the combination of fresh herbs and vegetables from the garden. These rolls a little time consuming to make because you have to prepare a lot of fresh vegetables and herbs, but I thought it was worth it.  I could have eating a half dozen of these.    My husband liked them too, but he felt  they lacked structural integrity.   Ok, so maybe I wasn't the best wrapper.   Mine was fine.   My next batch will be better. Wrapping well takes a little practice.
The original recipe called for making your own peanut sauce.    I knew I wouldn't have time to make the sauce from scratch because I only decided to make these at 5pm, and still had to run to the store, so I bought some pre-made peanut sauce at the supermarket.  It worked perfectly and saved me considerable time. Choose your favorite. There's a link below to the original recipe if you'd like to try to make the peanut sauce yourself.
This recipe makes 4 nice-sized summer rolls. Next time I might make them a little smaller, and wrap them a little more tightly to aid in their structural integrity. The recipe calls for coarsely shredded carrots. I bought matchstick carrots from the supermarket to save time. They worked perfectly.
Vegetable Summer Rolls
Recipe from Gourmet, May 2001

1 ounce bean thread noodles (cellophane noodles)
1 tablespoon seasoned rice vinegar
4 (8-inch) rice-paper rounds, plus additional in case some tear
2 red-leaf lettuce leaves, ribs cut out and discarded, and leaves halved
1/4 cup fresh mint leaves
1/4 cup fresh basil leaves (preferably Thai)
1/2 cup thinly sliced Napa cabbage
1/4 cup fresh cilantro leaves
1/3 cup coarsely shredded carrot (1 medium)

Cover noodles with boiling-hot water and soak 15 minutes, then drain well in a sieve. Pat dry between paper towels and toss with vinegar and salt to taste.

Put some parchment paper on a work surface and fill a shallow baking pan (I used a pie plate) with warm water. Soak 1 rice-paper round (make sure there are no holes) in warm water until pliable, about 30 seconds, then transfer to the parchment paper. Work with the rice-paper carefully because it can tear easily. If a wrapper tears, put it aside and start with a fresh one. Torn wrappers will make a big mess.

Arrange 1 piece of lettuce on bottom half of soaked rice paper, folding or tearing to fit and leaving a 1-inch border along edge. Spread a couple of teaspoons of the peanut sauce over lettuce and top with one fourth each of mint, basil, cabbage, and noodles. Roll up rice paper tightly around filling and, after rolling halfway, arrange one fourth of cilantro and carrot along crease. Then fold in sides and continue rolling. Transfer summer roll to a plate and cover with dampened paper towels.

Make 3 more rolls in same manner. Serve rolls halved on the diagonal.

Yield: 4 summer rolls

One year ago: Cake Pops
Two years ago: The Simplest Bean Burgers

Print This Recipe