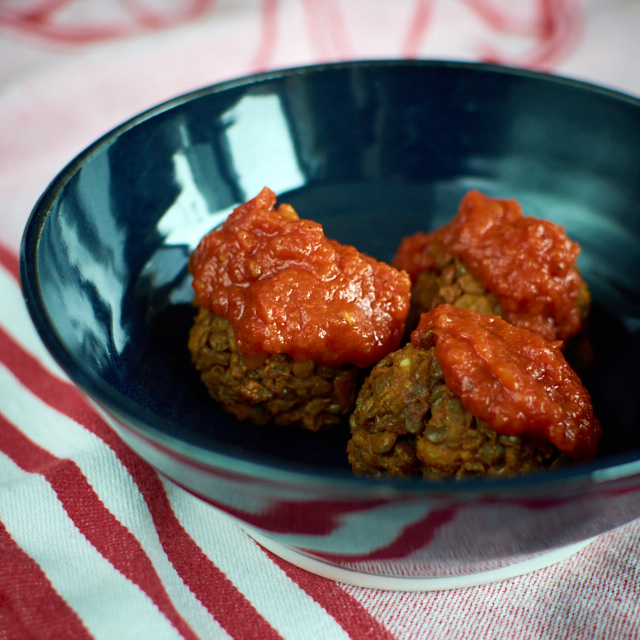 Although the photo doesn't do it justice, this is one of my new favorite recipes. Because my husband and I were the only ones in the family to eat these, and the recipe makes a generous quantity, we ate them for several days in a row and I didn't get sick of them at all. They are incredibly delicious! You can use any kind of sauce on them (pesto, tomato, lemon tahini, etc.) I doused mine in Rao's marinara sauce and they were unbelievable. They'd also make a great meatball hero.
I will tell anyone who asks that I don't like mushrooms. Raisins aren't my favorite either, but I had read a lot of great reviews about these veggie balls and decided to try the recipe as written, mushrooms and all. Since I never cook with them, I had to do a little reading about how to slice mushrooms, if you wash them or not, etc. I can't say that I tasted them in the recipe. There are so many other ingredients that the mushroom flavor is not prominent at all. I bought a 12-oz box of button mushrooms and used my scale to measure 8 ounces as called for in the recipe. Next time I'm going to use all 12-ounces.
The one word of warning I have about this recipe is that it takes time. This isn't something you can throw together an hour before dinner unless you're planning to serve a midnight buffet. After the boys went to school one morning, I started cooking the lentils. While they were cooking, I chopped and sauteed the vegetables. I did this while listening to a podcast called S Town. The podcast was very interesting, so it seemed like the prep work took no time at all. Once the veggie mixture was made, it had to chill. I let mine chill for several hours, until I was ready to form and bake the veggie balls. Next time I make these, I might try to chop some of the veggies in the food processor to speed things up. I'll let you know how that works.
These meatballs are apparently a staff favorite at The Meatball Shop here in Manhattan, and I can see why.
Veggie Balls
Recipe from the NY Times

2 cups lentils
1/4 cup plus 2 tablespoons olive oil
1 large onion, chopped
2 carrots, chopped
2 celery stalks, chopped
1 garlic clove, minced
1 tablespoon chopped fresh thyme
2 teaspoons salt
3 tablespoons tomato paste
8 ounces button mushrooms, wiped clean and sliced
3 large eggs
1/2 cup grated rennet-free Parmesan cheese
1/2 cup bread crumbs
1/2 cup chopped fresh parsley
1/4 cup finely chopped walnuts

Combine the lentils and 2 quarts water in a medium stockpot and bring to a boil over high heat. Reduce the heat to low and simmer until the lentils are soft but not falling apart, about 25 minutes. Drain the lentils and allow to cool.

Add 1/4 cup of the olive oil to a large frying pan and sauté the onions, carrots, celery, garlic, thyme and salt over medium- high heat, stirring frequently, for about 10 minutes, until the vegetables are tender and just beginning to brown. Add the tomato paste and continue to cook, stirring constantly, for 3 minutes. Add the mushrooms and cook, stirring frequently, for 15 more minutes, or until all the liquid is absorbed. Transfer the mixture to a large bowl and allow to cool to room temperature. When cool, add the lentils to the vegetable mixture.

Add the eggs, Parmesan, bread crumbs, parsley and walnuts to the cooled vegetables and mix by hand until thoroughly incorporated. Place in the refrigerator for 25 minutes.

Preheat oven to 400 degrees. Drizzle the remaining 2 tablespoons olive oil into a half sheet pan (using a little more if necessary) and use your hand to evenly coat the entire surface. Set aside.

Roll the mixture into round, golf ball–size meatballs (about 1 1/2 inches), making sure to pack the vegetable mixture firmly. Place the balls on the prepared baking sheet, allowing 1/4-inch of space between the balls and in even rows vertically and horizontally to form a grid. Depending on the size of your veggie balls, they may not fill the entire sheet pan. This is ok.

Roast for 30 minutes, or until the meatballs are firm and cooked through. Allow the meatballs to cool for 5 minutes in the baking dish before serving.

Yield: ~30 veggie balls that were slightly larger than golf balls

One year ago: Grapefruit Yogurt Cake
Two years ago: Secretly Healthy Fudge Balls
Three years ago: Brigadeiros (Brazilian Fudge Balls)
Four years ago: Braised Coconut Spinach and Chickpeas with Lemon
Five years ago: Peanut Butter Cup Blondies
Six years ago: Caramels
Seven years ago: Yucatán Pork Tenderloin
Eight years ago: Carole's Country Style Spare Ribs
Nine years ago: Buttermilk Bran Muffins

Print This Recipe