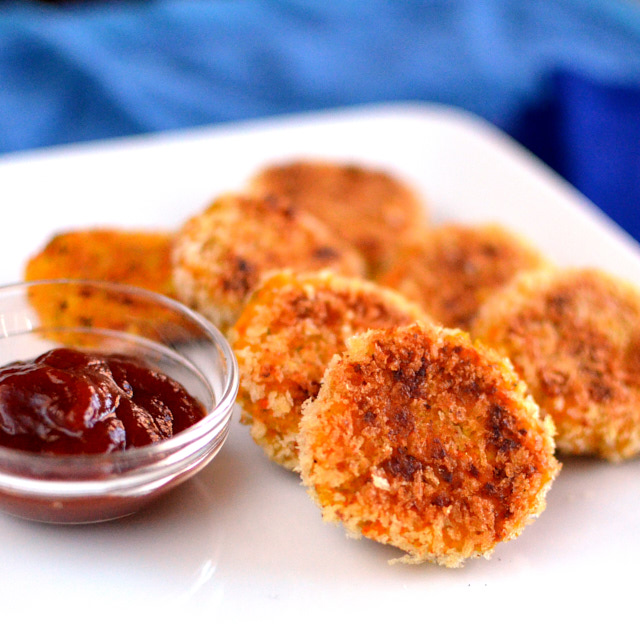 This is another attempt to get my four picky eaters to eat more vegetables. Did I succeed? Nope!
I have made these several times now because I love them. The boys? Not so much. I think they're crazy. I'm hoping that when they're off to college, somehow their palates will miraculously improve.
Instead of using three cups of broccoli florets, I bought a bag of Trader Joe's Riced Broccoli and used 1 cup of it. I boiled it quickly before putting it into the food processor with the other ingredients. If you don't have riced broccoli, the florets work fine.
These freeze and reheat in the microwave incredibly well. I just had a plate of them for lunch.
Veggie Nuggets
Recipe from Real Mom Nutrition

1 cup shredded carrots
3 cups broccoli florets
1 garlic clove
2 eggs
1 1/4 seasoned breadcrumbs, divided
3/4 cup shredded cheddar cheese
1/2 teaspoon onion powder
1/2 teaspoon black pepper
1 Tablespoon canola oil

Shred carrots (I used my food processor's shredding attachment).

Steam broccoli in the microwave for two minutes or until tender.

Place shredded carrots, steamed broccoli, garlic, eggs, 1 cup of the breadcrumbs, cheese, onion powder, and black pepper in food processor and pulse for 15 seconds or until well combined. Mixture should form easily into a ball. If it's too crumbly, add water one teaspoon at a time until you achieve the desired consistency.

Form mixture into balls, about a tablespoon each (I use a cookie scoop). You should get about 25 nuggets. Flatten slightly into round discs about 1/2 inch thick.

Place remaining 1/4 cup breadcrumbs in a shallow dish. Coat each veggie nuggets with breadcrumbs.

Heat oil in a skillet on medium high heat until it sizzles when sprinkled with water droplets. Arrange nuggets in skillet and cook about 4 minutes each side, or until golden brown and crispy.

Serve with honey-mustard sauce, ketchup, or other favorite dip.

Yield: About 25 nuggets, but this depends upon how big your make them

One year ago: Pumpkin Lentil Soup/a>
Two years ago: Giant Bubbles
Three years ago: Chocolate Sugar Cookies
Four years ago: Ranch Oyster Crackers
Five years ago: Shrimp Stew with Coconut Milk, Tomatoes and Cilantro
Six years ago: Pumpkin Chocolate Chip Muffinsl
Seven years ago: Five-Treasure Fried Rice
Eight years ago: Cream Biscuits
Nine years ago: Cinnamon Muffins

Print This Recipe