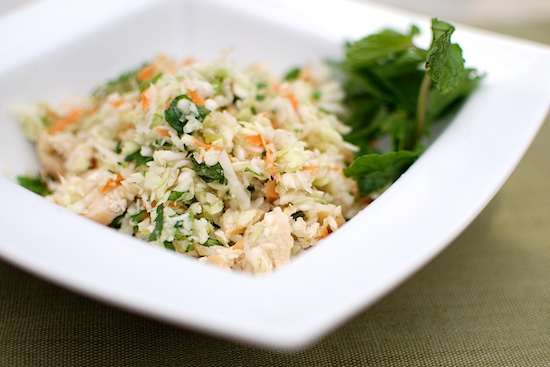 This is a great, light salad that is perfect now that the weather is getting warmer. I plan to make it a lot this summer.   It has a great Asian flavor.   I thought it was quite good when I first made it, but I thought it was much, much better the next day.   Excellent, really.   When you first make this salad, the freshly crushed shallots in the dressing can be a bit strong, but they mellow overnight.  The salad has the same great flavor the next day, the dressing is just not as sharp or biting.
I love the combination of the fresh cilantro and mint.   It adds a punch of flavor to the salad.
This salad is a meal in itself, but it would also be nice served with a warm, crunchy baguette and an ice-cold glass of white wine.
The recipe calls for coleslaw mix.   This is certainly an easy way to go if your store carries it, but my supermarket didn't have any, so I bought a small head of green cabbage and two carrots.   I grated them using the grating disk on my food processor.   It took no time at all and in the end was probably a lot less expensive than buying pre-made  coleslaw.
Vietnamese-Style Chicken Salad
Recipe from finecooking.com

3 small shallots, coarsely chopped (1/2 cup)
1 jalapeno, chopped (seed first if you want less heat)
1 Tbs. granulated sugar
Freshly ground black pepper
1/4 cup rice vinegar
3 Tbs. fish sauce
1 lb. boneless, skinless, thin-sliced (1/4 to 1/2 inch thick) chicken breast cutlets
Kosher salt
12 oz.  coleslaw mix (or make your own by grating one small head of cabbage and 2 carrots)
1 cup fresh mint leaves, torn if large
1/4 cup fresh cilantro leaves
1/4 cup salted peanuts, coarsely chopped

If you have a mini food processor, put the shallots, jalapeno, sugar and 1/8 teaspoon of pepper into the bowl and chop until the shallots are very small, practically pureed. If you don't have a mini food processor, you can use a mortar and pestle. Transfer the mixture to a large serving bowl and stir in the vinegar and fish sauce.

Season the chicken with 1/4 tsp. salt and 1/8 tsp. pepper and cook in an oiled grill pan or on a grill, turning once, until just cooked through, about 2 minutes per side. Let cool and then shred the chicken with your fingers into long thin strips, pulling the meat along its natural grain.

Toss the coleslaw mix (or grated cabbage and carrots) into the vinegar mixture. Add the chicken, mint, and cilantro and combine well. Top with the peanuts and serve at room temperature.

Yield: 4 servings

One year ago: Orange Scones with Chocolate Chips
Two years ago: Sugar Cookie Bars
Three years ago: Whole Grain Buttermilk Pancakes

Print This Recipe