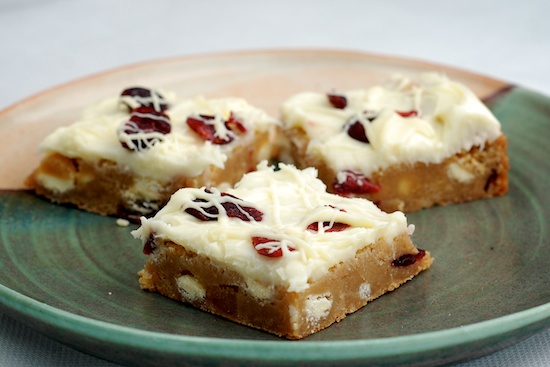 These are a great dessert for a holiday table. I am told that they taste just like the cranberry bars that Starbucks sells at Christmas time. They are festive and they taste incredible.
Bars are a favorite of mine because you get a lot of bang for your buck. Bars are relatively easy to put together, and they yield quite a few treats. Bars with white chocolate or frosting top my list of favorites. Mix frosting with white chocolate, as these bars do, and they soar right to the top.
Whenever I need to make a treat for school – for someone's birthday or for a bake sale, I always tend towards cupcakes. My husband always tries to talk me into making bars, knowing that I'll be done much more quickly, and that the treats will have a chance of getting to their destination on time.
I have made these twice already and I'm sure they'll be made again before the holiday season is over. These are best served cold. My husband likes to eat these straight out of the freezer. They're really delicious.

White Chocolate Cranberry Blondies
Recipe from Taste of Home

3/4 cup butter, cubed
1-1/2 cups packed light brown sugar
2 eggs
3/4 teaspoon vanilla extract
2 1/4 cups all-purpose flour
1 1/2 teaspoons baking powder
1/4 teaspoon salt
1/8 teaspoon ground cinnamon
1/2 cup dried cranberries
6 ounces white baking chocolate, coarsely chopped

Frosting:
1 package (8 ounces) cream cheese, softened
1 cup confectioners' sugar
1 tablespoon grated orange peel (optional)
6 ounces white baking chocolate, melted
1/2 cup dried cranberries, chopped

In a microwave, melt butter; stir in brown sugar. Transfer to a large bowl; cool to room temperature. Beat in eggs and vanilla. Combine the flour, baking powder, salt and cinnamon; gradually add to butter mixture. Stir in cranberries and chopped chocolate (batter will be thick).

Spread into a greased 13-in. x 9-in. baking dish. Bake at 350° (or 325° if you are using a glass pan) for 18-21 minutes or until a toothpick inserted near the center comes out clean (do not overbake). Cool on a wire rack.

For frosting, in a large bowl, beat the cream cheese, confectioners' sugar and orange peel if desired until blended. Gradually add half of the melted white chocolate; beat until blended. Frost brownies. Sprinkle with cranberries. Drizzle with remaining melted white chocolate. Cut into bars. Store in the refrigerator.

Yield: 2-1/2 dozen

Print This Recipe