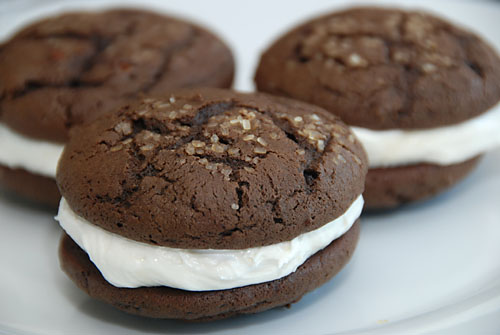 Ok, my next post will be something savory.   All I seem to be posting is sweets these days.    I've made many new things in the past couple of weeks, but only the sweet ones seem to make the site.   I made a savoy cabbage gratin last week that I thought was pretty good, but not great.   Same with a brussel sprouts saute.   If I don't love the recipes, I won't post them because this site is my go-to source for my favorite recipes.    I just bought some collard greens, so I'll see if I can do something tasty with them.
So back to the whoopie pies.   I have fond memories of my grandmother talking about whoopie pies, but I actually can't remember her ever making them.  That's ok, they remind me of her anyway.   She died a couple of years ago and I really miss her.  I think about her all the time – the funny things she said – and her advice about life.
Whoopie pies are a New England confection popular in both Massachusetts and Maine.   Grandma had homes in both states.   They can be found individually-wrapped in plastic at lots of different types of stores.
So, I made these whoopie pies yesterday and the boys loved them (no big surprise!)   I feared that I might send them flying into a sugar-induced coma.   Boy are these things sweet!   They're tasty at the same time though.   The cookies are quite soft – much like a muffin top, and the cream that is sandwiched in between is delicious, but a bit cloying.   They're similar to the Devil Dogs that I ate growing up, but they're made without shortening.   Pour yourself a tall glass of ice-cold milk before having one.   They go together perfectly.
I found this recipe on a blog called One Ordinary Day.  It's the same site where I found the peanut butter cookie recipe that I posted the other day.
Whoopie Pies
From One Ordinary Day


1  3/4 cups all-purpose flour
3/4 cup cocoa powder
1  1/2 teaspoons baking soda
1/2 teaspoon salt
1/2 cup butter, softened
1/2 cup white sugar
1/2 cup packed brown sugar
1 cup milk
1 egg
1 teaspoon vanilla extract

Preheat oven to 375 degrees and lightly grease cookie sheet or cover with parchment paper or silpat.  Whisk together flour, cocoa powder, baking soda, and salt.

In medium bowl, cream together butter and sugar until light and fluffly, about 2 minutes.  Add the egg and continue beating 1-2 more minutes.  Beat in milk and vanilla.  Beat in flour mixture until combined.

Using a cookie scoop, drop mounds of batter onto cookie sheet.  Sprinkle tops with raw sugar.  Bake 8-12 minutes until top springs back when touched.

Cool completely, then pipe or spoon a heaping amount of frosting on flat half of one cookie and make a sandwich with the flat half of another cookie.

Whoopie Pie Filling

1 cup (2 sticks) unsalted butter, room temperature
2 cups sifted confectioners' sugar
1 jar (7 1/2 ounces) Marshmallow Fluff
2 teaspoons pure vanilla extract

In a medium bowl, cream together butter and sugar until pale and fluffy, about 3 min. Add marshmallow fluff and vanilla and continue mixing until well combined.   Spoon into a decorating bag (or a freezer bag with tip cut off) and pipe a generous amout of frosting onto cookie half; top with another cookie half.

Yield:  ~15 whoopie pies

Print This Recipe