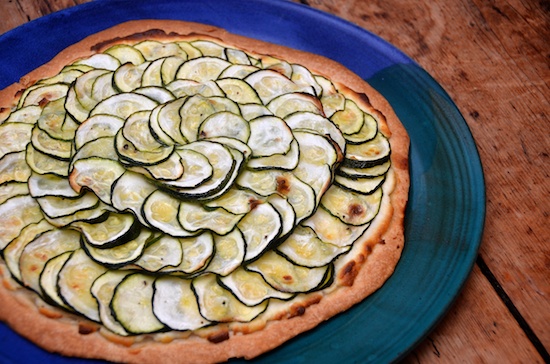 This tart looks beautiful when served and tastes as good as it looks. It's like a veggie pizza with a much firmer crust.
The original recipe called for goat cheese, but I substituted homemade ricotta with a little bit of garlic added for flavor. I'm not huge goat cheese fan. The taste is much too strong for me, and there's something about it that reminds me of dirty socks.
I'll definitely make this again. The presentation is great for a dinner party and if you are organized and can make the crust in advance, it's a pretty easy dish to throw together. This makes 8 pieces if you're serving it as a side dish or as an appetizer. If you'd like to serve a meatless meal and want to use this as the main course, I'd say it serves 4 if it's paired with a nice salad.
Zucchini Tart with Lemon Thyme and Ricotta
Recipe adapted from Fine Cooking magazine, May 2012

1 1/4 cups all-purpose flour
10 Tablespoons cold butter
Kosher salt
1/2 teaspoon white vinegar
1 1/2 pounds of zucchini, trimmed and sliced into 1/8-inch-thick rounds
Freshly ground black pepper
2 Tablespoons extra-virgin olive oil
8 oz. ricotta cheese
1 1/2 teaspoons minced garlic
1 teaspoon chopped fresh lemon thyme OR 1 teaspoon chopped thyme and 1/4 teaspoon lemon zest

Put the flour, butter and 3/4 teaspoon of salt in a food processor and pulse until the mixture is the size of small peas. Add the vinegar and 3 – 4 tablespoons of cold water and continue to pulse until you have a ball of dough. Remove the dough and shape it into a flat disk that's about 1″ thick. Wrap the dough in plastic and chill in the refrigerator for 30 minutes.

Meanwhile, slice the zucchini about 1/8″ thick. Put the slices in a colander and toss them with 2 teaspoons of kosher salt. Let them drain for 30 minutes. After they have drained, rinse the salt off the zucchini and dry it by putting it in a clean dish towel and gently squeezing the moisture out of it.

On a well floured surface, roll out the dough until it's 11″ in diameter and about 1/4″ thick. Put it back in the refrigerator, covered in plastic for another 30 minutes.

Preheat your oven to 400°F. Toss the sliced zucchini with 1 Tablespoon of olive oil. Add salt and pepper to taste. In a separate bowl, mix the ricotta cheese with the minced garlic and the lemon thyme. Salt and pepper this to taste as well. Remove the dough from the refrigerator, carefully put it on a cookie sheet, and spread the cheese mixture on it, leaving 1/2″ border.

Starting from the outside, place the zucchini around the tart in concentric, overlapping rings until the entire tart is covered. The zucchini will shrink a bit when cooking, so overlapping the zucchini is important. When complete, drizzle the tart with the remaining tablespoon of olive oil.

Bake for 40-50 minutes or until the tart is golden brown. Towards the end of the baking time, check on the tart to make sure the edges aren't getting too dark.

Yield: 8 servings as a side dish

One year ago: Farmer's Market Quesadillas
Two years ago: Mango Slaw with Cashews and Mint
Three years ago: Black Bottom Cupcakes

Print This Recipe