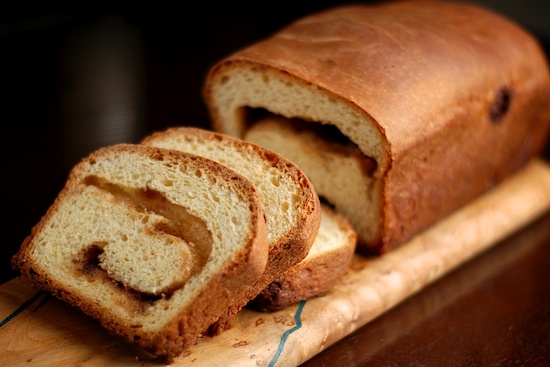 Our boys LOVE to eat Pepperidge Farm's Cinnamon Swirl bread. They'd eat it all the time if we let them. I don't eat it too much, but I must admit that it's great toasted with butter. It also makes your kitchen smell great as it's toasting.
Since baking's my thing, when I came across a recipe for cinnamon swirl bread, I knew I had to try it. I have traditionally had trouble with yeast breads, but with a little practice, I'm getting better at it. This recipe was surprisingly easy to follow and to make. I usually have trouble with the rising step. Not with these loaves – they rose like champs.
The boys really loved this bread. I found it to be slightly dry, even when it was first out of the oven. That didn't deter the boys from plowing through a loaf almost immediately! I found that this bread makes amazing french toast. We had french toast for breakfast a couple of mornings in a row and the boys couldn't get enough of it. I'll make this bread again with the sole purpose of using it for french toast – it was that good.

Zvi's Cinnamon Swirl Bread
Recipe from Tate's Bake Shop Cookbook by Kathleen King

3 1/4-ounce packages of active dry yeast
1/2 cup warm water (about 105 degrees)
1 1/2 cups warm milk
1/2 cup sugar
1 Tbsp salt
1/2 cup salted butter
4 large eggs lightly beaten, at room temperature
8 cups all-purpose flour (You may use 3/4 cup more when kneading).

Swirl filling: (You can double the swirl filling if you like gooey bread)
1/2 cup salted butter, softened
3/4 cups firmly packed dark brown sugar
1 1/4 tsp cinnamon

Dissolve the yeast in warm water in a large mixing bowl (ideally use the bowl of a stand mixer). Make sure your bowl is warm when you start – you can warm it by running it under hot water. You want your yeast mixture to stay warm. Let the mixture stand for 5 minutes. Meanwhile, heat the milk, sugar, salt, and butter until it is warm. Don't let it boil.

Add the eggs, 4 cups of flour, and the warm milk mixture to the yeast. Mix using a stand mixer with the dough hook attachment. Very gradually, add the remaining flour, mixing until it forms a stiff dough.

Remove the dough from the bowl and place on a flour dusted work area. Knead the dough until it springs back when you press it with your finger and it is smooth and elastic. Place the dough in very large oiled bowl. Roll the dough around to coat it on all sides with oil. Cover it with a damp towel and let it rise in a warm area until doubled in size, about 1 hour. I usually let the dough rise undisturbed in my oven – just be sure you don't turn it on while the dough is rising.

Make the filling: Cream the butter, sugar and cinnamon and set aside.

When the dough has risen, punch down the dough and grease three 9×5 inch loaf pans. Divide the dough into three equal portions, approximately 1 1/2 pounds each. Roll out each piece into an 8×12 rectangle. Spread the filling evenly onto each rectangle, leaving a 1/2 inch border. Roll the dough from the 8-inch side like a jellyroll. Pinch the edges and ends together. Tuck the ends under slightly and place the dough seam side down in the prepared pans. Cover and let rise for 1 hour.

When the bread has risen, preheat the oven to 350 degrees F. Bake the bread for 1 hour and 10 minutes. If the top of the bread starts to brown too much, you can cover it with aluminum foil for the remainder of the baking time.

Yield: Three nine-inch loaves

One year ago: Roasted Butternut Squash
Two years ago: Moroccan Carrot Dip
Three years ago: Swedish Meatballs


Print This Recipe