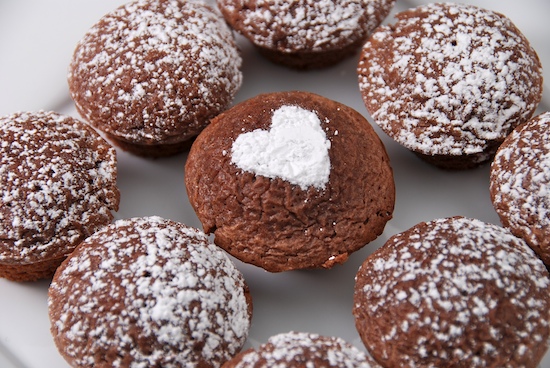 I've had my eye on this recipe for a while and finally decided to try it. I thought the snack cakes would be a nice treat for the boys one afternoon after school. Instead of making 12 muffin-sized snack cakes, I decided to make 24 mini-muffin size cakes. I felt they were a better size for the boys, and they definitely were.
I love the combination of chocolate and almond extract. The resulting flavor is great. The boys begged for a snack cake as soon as they came out of the oven. I dusted the first couple with powdered sugar, and I actually put some whipped cream on a couple of them. That was decadent and delicious.
I found that the mini-muffins dried out a bit as they sat out all afternoon, but it wasn't something that 10 seconds in the microwave couldn't fix. I think they're a nice snack to have with a cup of tea on a cold afternoon.

Chocolate Yogurt Snack Cakes
Recipe from A Sweet Life in Paris by David Lebovitz

7 ounces bittersweet or semisweet chocolate, coarsely chopped
1/2 cup unflavored vegetable oil, divided
1/2 cup plain, whole-milk yogurt
1 cup sugar
3 large eggs, at room temperature
1 teaspoon vanilla extract
1/2 teaspoon almond extract
1 1/2 cups flour
1 1/2 teaspoons baking powder
1/2 teaspoon salt
powdered sugar (this is my addition)

Preheat the oven to 350 F. Line a muffin tin with 12 paper cupcake liners, or lightly butter them.

In a heatproof bowl set over simmering water, melt the chocolate with 1/4 cup of the oil. Once melted and smooth, remove from heat.  (I melted my chocolate in the microwave and it worked fine.)

In another bowl, mix together the remaining 1/4 cup of oil with the yogurt, sugar, eggs, and vanilla and almond extracts.

In a large bowl, whisk together the flour, baking powder, and salt.   Make a well in the center of the flour mixture and add the yogurt mixture. Stir lightly a couple of time, then add the melted chocolate, and stir until just smooth.     Divide the batter into the muffin tins and bake for 25 minutes, or until they feel barely set in the middle.    Remove from oven and cool before serving. Top with powdered sugar if desired.

Yield:  12 muffins

Print This Recipe