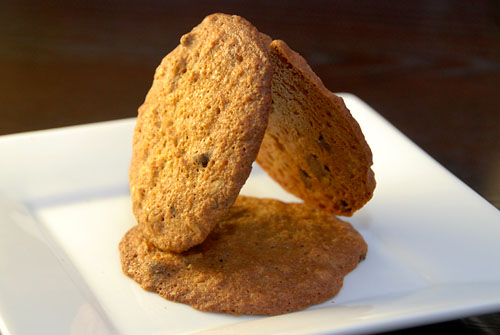 I was looking for a new cookie recipe to try and I noticed that I had a couple of overripe bananas on my kitchen counter just begging to be used.   I thought about making my favorite banana bread which I make all the time, but I wanted to try something different so I ended up with these cookies, and I'm glad that I did.   The recipe is from the Martha Stewart website. I tend to like her cookie recipes and this one looked a tiny bit healthier than most, with the banana and the old-fashioned oats in it.
The boys ate them as a snack after school, and I was worried that one of my sons wouldn't like them because he typically hates anything with bananas in it.   When my youngest son took a bite out of his cookie, the first works out of his mouth were, "Mmmm delicious.   Do they have bananas in them?"    I was so afraid that our vegetable and fruit-hating son would taste the same thing, but he didn't!    He finished his cookie and asked for a second.   Go figure!
When making these or any recipe with bananas, I like to use bananas whose skin has gone almost black.    They get a very intense, sweet flavor the longer you let them sit around.   If you have bananas that are perfect for baking, and you don't have the time, toss them in your freezer until you're ready to use them.
These are a nice twist on traditional chocolate chip cookies.   I hope you give them a try!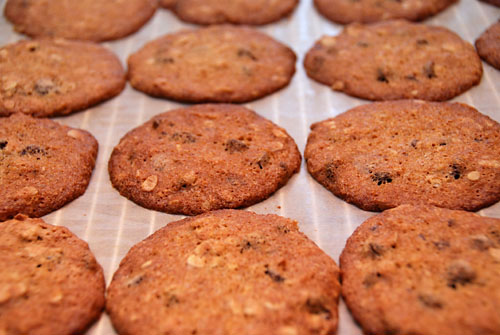 Banana Oatmeal Chocolate Chip Cookies
Adapted from MarthaStewart.com

1/2 cup all-purpose flour
1 cup whole-wheat flour
1 teaspoon coarse salt
1/2 teaspoon baking soda
1/2 teaspoon cinnamon
3/4 cup (1 1/2 sticks) unsalted butter, softened
1/2 cup granulated sugar
1/2 cup packed light-brown sugar
1 large egg
1 1/2 teaspoons pure vanilla extract
1/2 cup mashed ripe banana (about 1 large)
1 cup old-fashioned rolled oats
8 ounces semisweet chocolate chips

Preheat oven to 375 degrees. Whisk together flours, salt, cinnamon and baking soda in a small bowl; set aside. Put butter and sugars into the bowl of an electric mixer fitted with the paddle attachment; mix on medium speed until pale and fluffy. Reduce speed to low. Add egg and vanilla; mix until combined. Mix in banana. Add flour mixture; mix until just combined. Stir in oats and chocolate chips.
Using a 1 1/2-inch ice cream scoop, drop dough onto baking sheets lined with parchment paper, spacing about 2 inches apart. Bake cookies, rotating sheets halfway through, until golden brown and just set, 12 to 13 minutes. Let cool on sheets on wire racks 5 minutes. Transfer cookies to wire racks; let cool completely. Cookies can be stored in airtight containers up to 2 days.

Yield:  ~3 dozen