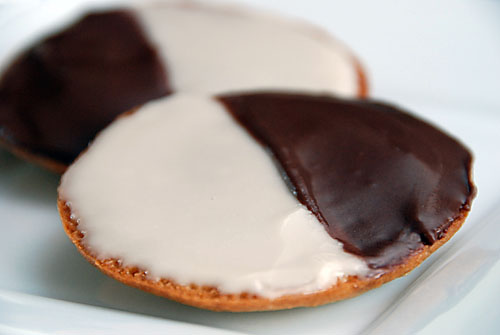 Black and white cookies are a traditional New York treat.   You'll find them in bakeries and delis all over the city.     Anyone remember the old Seinfeld episode where Jerry talked about his philosophy on race relations, and how it was based on the black and white cookie?
The bottom of this cookie is cake-like.   It's not crunchy like a traditional cookie.  To be honest, I was never really a fan of black and white cookies.  I'd never buy them, nor would I go for them on a dessert tray.    My boys on the other hand,  pick them up as soon as they seem them, and if they ever see one in a store, it's a challenge to walk away without buying one.    When I saw this recipe, I decided I had to try it.
The cookies are really easy to make.  I made them using an ice-cream scoop, so they ended up being about 3″ in diameter.   Traditional black and white cookies are usually twice that size.   The original recipe called for putting 1/4 cup of batter on the cookie sheet, but I didn't want huge cookies (our boys are still small), so I made smaller ones.  I also put Silpat on my cookie sheets instead of buttering them as the recipe describes.   The cookies came right off the Silpat!
If you are generous with frosting, you might want to make some extra.   I found that the measurements below give you exactly enough frosting for the cookies.   There's not a drop left over.   Next time I make these, I will probably make some extra frosting.  I won't double the recipe, but I'll increase it by 50%.  Speaking of the frosting (actually it's more like a glaze), the white frosting tastes a tiny bit like lemon.   I didn't mind it at all, but when my sister tried the cookies, she noticed it.    You can leave the lemon juice out of the frosting, but I like it because it cuts the sweetness a bit.   If you leave the lemon juice out, I'd increase the vanilla to 1/2 teaspoon.
Once you make the frosting, you have to be ready to frost the cookies immediately, and fast!   The frosting tends to dry pretty quickly.   If you're frosting slowly and it starts to dry, add a couple of drops of water until it's back to the consistency that you like.   Hopefully you'll be able to get everything frosted before either one dries out.   I do all of one color first, then the other.   I hope you like these.   They're a huge crowd-pleaser.
Black and White Cookies
From Gourmet Magazine, February 2002

For cookies:

1 1/4 cups all-purpose flour
1/2 teaspoon baking soda
1/2 teaspoon salt
1/3 cup well-shaken buttermilk
1/2 teaspoon vanilla
1/3 cup (5 1/3 tablespoons) unsalted butter, softened
1/2 cup granulated sugar
1 large egg
For icings:

1 1/2 cups confectioners sugar
1 tablespoon light corn syrup
1 1/2 teaspoons fresh lemon juice
1/4 teaspoon vanilla
1 to 2 tablespoons water
1/4 cup unsweetened Dutch-process cocoa powder

Make cookies:
Preheat oven to 350°F.

Whisk together flour, baking soda, and salt in a bowl. Stir together buttermilk and vanilla in a cup.

Beat together butter and sugar in a large bowl with an electric mixer until pale and fluffy, about 3 minutes, then add egg, beating until combined well. Mix in flour mixture and buttermilk mixture alternately in batches at low speed (scraping down side of bowl occasionally), beginning and ending with flour mixture. Mix until smooth.

Spoon 1/4 cup of batter about 2 inches apart onto a buttered large baking sheet. (*Diane's note:   As mentioned above, I used my trusty ice-cream scoop to measure the batter, and I got nice small cookies).  Flatten the dough slightly with the back of a fork.  Bake in middle of oven until tops are puffed and pale golden, and cookies spring back when touched, 15 to 17 minutes. Transfer with a metal spatula to a rack and chill (to cool quickly), about 5 minutes.

Make icings while cookies chill:
Stir together confectioners sugar, corn syrup, lemon juice, vanilla, and 1 tablespoon water in a small bowl until smooth. Transfer half of icing to another bowl and stir in cocoa, adding more water, 1/2 teaspoon at a time, to thin to same consistency as white icing.

Ice cookies:
Turn cookies flat sides up, then spread white icing over half of each and chocolate over other half.

Yield:  ~24 cookies (if you make them ~3″ in diameter)

Print This Recipe