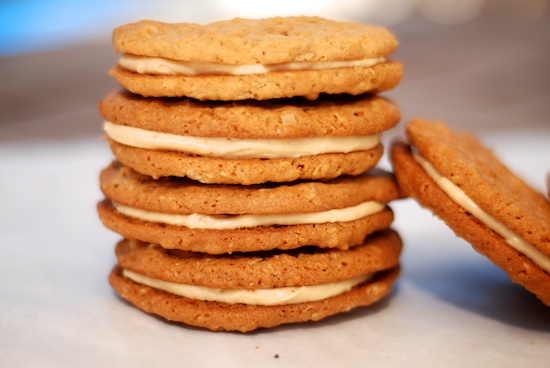 I was thrilled to find this recipe (I originally found it on another blog that I read) because I have a container of Costco organic peanut butter that my finicky, peanut-butter-sandwich-eating son doesn't like.   Granted, it's not as sweet as Skippy, but it's pretty tasty.  I'll definitely be making more of these cookies and some peanut butter dipping sauces this summer so I can use up the rest of the peanut butter.
These cookies were a huge hit in our house.  They were also a huge hit with everyone that tried them (our local priest, Fr. Vincent, the boys' swimming instructor, my husband's aunt, etc.) They are actually the best peanut butter cookies I've ever eaten. You should really try them. They're a bit time-consuming because they're a sandwich cookie, but they're very impressive and incredibly delicious.   I opted not to include the chopped peanuts in mine because my boys don't like chunky things, but I think they'd be a nice addition.
We are very lucky to have a Bouchon Bakery a couple of blocks away from our apartment. I don't often go because I bake so many sweets myself, but I'm going to make a point to go next time I'm in the Time Warner Center so I can try these cookies.
Bouchon Bakery's 'Nutter Butter' Cookies
Adapted slightly from The New York Times, December 27, 2006
Cookie Dough:
1 cup all-purpose flour
1 cup white whole wheat flour
2 teaspoons baking powder
4 teaspoons baking soda
1 pound (4 sticks) butter, at room temperature
2/3 cup creamy peanut butter, preferably Skippy
1 cup granulated sugar
1 cup firmly packed light brown sugar
2 large eggs
1 Tablespoon honey
1½ teaspoons vanilla extract
1/3 cup coarsely chopped peanuts
2½ cups quick-cooking oats

Filling:
¼ pound (1 stick) butter, at room temperature
½ cup creamy peanut butter, preferably Skippy
3 Tablespoons coarsely chopped peanuts (optional)
1 2/3 cups confectioners' sugar.

Preheat oven to 350 degrees and line baking sheets with parchment paper.

In a bowl, mix together the flour, baking powder and baking soda; set aside. Using a mixer with a paddle attachment, cream together the butter and peanut butter. Add sugars and honey and beat at medium speed for 4 minutes, scraping down bowl twice.

At low speed, add egg and vanilla. Add flour mixture and beat at low speed until well mixed, frequently scraping down bowl. Add peanuts (if using) and oats, and mix well. Using an ice cream scoop 1 or 1-1/2 inches in diameter, place balls of dough on parchment-lined baking sheets at least three inches apart. Bake until cookies have spread and turned very light golden brown, about 10 minutes. Remove from oven and set aside to cool and firm up, 5 to 10 minutes. Transfer to a rack to cool completely before filling.

For filling: using an electric mixer, cream together the butter, peanut butter and confectioners' sugar until very smooth.

To assemble cookies, spread a thin layer (about 1/8 inch) on the bottom of a cookie. Sandwich with another cookie. Repeat.

Yield: ~24 cookies

One year ago: Zucchini Pancakes
Two years ago: Baked Apple "Donuts"

Print This Recipe