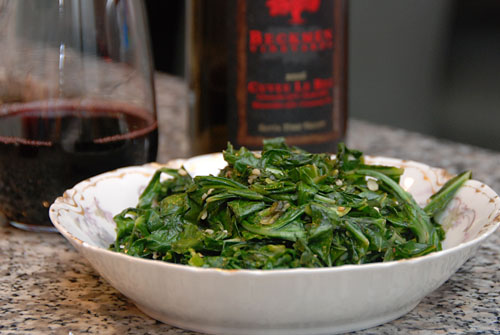 I'm on a mission to make more dark leafy greens.   We don't eat nearly enough of them.   All I seem to be posting recently  is sweets.   It's time for a change!
This recipe is incredibly simple and quick to make and very delicious.   And it's good for you;  it's hard to beat that.   Collard greens are a very healthy green, offering lots of vitamin C, soluble fiber, calcuim and anti-cancer nutrients (whose names are too long to mention here.)   You can read more about the health benefits of collard greens here.    They are a big part of the cuisine in the southern part of the United States, but this preparation is Brazilian.   In Brazil they call collards couve.
The key to this dish is to cut the collards into very (and I mean very) thin strips.   When I put the dish on the table tonight, the boys thought I was serving seaweed!   They immediately turned their noses up.   No amount of cajoling could get them to try it.   Oh well.    Hopefully if they see them enough times on the dinner table, they'll get curious.  There were some small, inner leaves left over when I made the dish, so I tore them into small pieces and gave them to our iguana, Ian.   She loved them (yes, Ian is a girl – long story).   At least someone did.    I shouldn't say that because my husband and I both really like them.  I hope you like them too.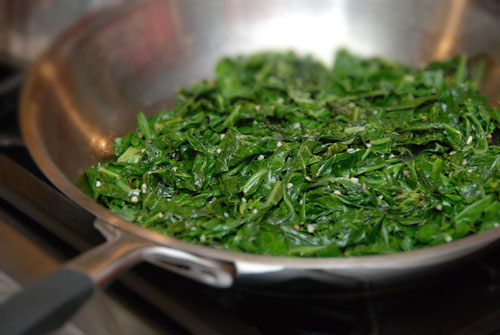 Brazilian-Style Collard Greens
from Epicurious.com


1 1/4 pound collard greens, stems and center ribs discarded and leaves halved lengthwise
3 cloves of garlic, minced
1 tablespoon olive oil
1/4 teaspoon pepper
salt to taste

Stack half of collard leaves and roll into a cigar shape. Cut crosswise into very thin strips (1/16 inch wide). Repeat with remainder.

Heat oil in a 12-inch heavy skillet over medium heat until it shimmers, then cook garlic, stirring, 30 seconds. Add collards with 1/4 teaspoon pepper and cook, tossing, until just tender and bright green, 3 to 4 minutes.   Add salt to taste.

Serves 4 as a side dish.
[print_link}