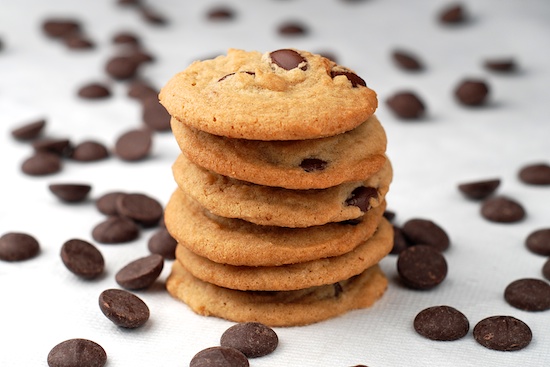 Please excuse the fact that I'm posting yet another chocolate chip cookie recipe, but these are different from all the others. They really are. These cookies reminded me of those soft-baked Entenmann's chocolate chip cookies that come in a box from the supermarket, but these cookies are much better.
When I made these, I used a small ice cream scoop to put the dough on the cookies sheet. An ice cream scoop ensures that all of the cookies are approximately the same size and shape. It's also incredibly easy to use.
The secret to making these cookies chewy is the addition of corn starch. It works like a charm. I'll definitely make these part of my regular cookie rotation.
Each of the four boys gave these a double thumbs up.
Chewy Chocolate Chip Cookies
Recipe from Keysey at Apple a Day who barely modified it from Anna Olson, Food Network Canada

3/4 cup unsalted butter, softened
3/4 cup brown sugar
1/4 cup granulated sugar
1 egg
2 teaspoons vanilla extract
2 cup all purpose flour
2 teaspoons cornstarch
1 teaspoon baking soda
1/2 teaspoon salt
1 cup bittersweet or semi-sweet chocolate chips

Preheat oven to 350 degrees F.

In the bowl of a stand mixer fitted with a paddle attachment, cream together butter and sugars until fluffy and light in color. Add egg and vanilla and mix well.

Mix in flour, cornstarch, baking soda and salt. Stir in chocolate chips.

Using a small ice cream scoop or tablespoon, drop dough onto a baking sheet. Bake for 8-10 minutes, until barely golden brown around the edges. (The tops will not brown, but do NOT cook longer than ten minutes.)

Let cool, on the sheet, on a wire rack for five minutes. Remove from baking sheet and let cool completely.

Yield: ~36 cookies

Two year ago: Braised Celery
Three Years Ago: Banana Caramel Cake

Print This Recipe