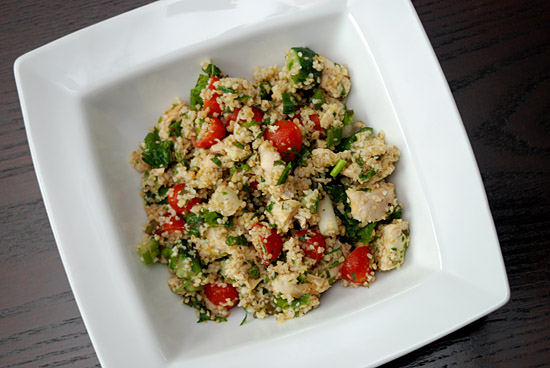 My cousin Danielle visited us this past weekend.   She comes to NYC every month or so to take a course in Integrative Nutrition.   The lectures sound fascinating.   It's all about health and wellness, so I decided to try to make something light and healthy for dinner, and this was it.   It was incredible!   I'll definitely make it again.  The flavors blended perfectly, and boy was it full of flavor.
When I made the recipe I didn't have chicken breasts on the bone, but I did have frozen Perdue boneless chicken breasts from Costco in the freezer.   In lieu of the two breasts on the bone, I used three frozen boneless chicken breasts.    I defrosted them in the microwave, then cooked them in a grill pan with a little bit of olive oil.  They were the perfect substitution and a lot easier than cooking chicken breasts on the bone, then pulling the meat off the bone.   You can also use a rotisserie chicken so you don't have to cook the meat at all.
If you are not familiar with bulgur wheat, it's a quick cooking form of whole wheat that has been cleaned, parboiled, dried and ground.    It's more nutritious than rice or couscous because it's high in fiber, vitamins and minerals.   It also has a mild nutty flavor.   When I bought mine, I found it in the Goya section of my grocery store quite close to the bags and cans of Goya beans.
As the directions suggest, the flavors in this dish definitely improve as it sits.   I thought it was delicious when it was freshly made, but almost better the next day after it sat overnight in the refrigerator.   It's a great leftover for lunch.  I plan to make this quite a bit this summer.
Chicken with Tabbouleh
Adapted from Barefoot Contessa Parties! by Ina Garten

1 1/2 cups boiling chicken stock
1 cup bulgur wheat
1/4 cup freshly squeezed lemon juice (~2 lemons)
Olive oil
Kosher salt
1 whole (2 split) chicken breast, bone in, skin on
Freshly ground black pepper
1 cup minced scallions, white and green parts (1 bunch)
1 cup chopped fresh mint leaves (2 bunches)
1 cup chopped fresh flat-leaf parsley (1 bunch)
1 hothouse cucumber, unpeeled, halved lengthwise, seeded, and medium-diced
2 cups halved cherry tomatoes

Preheat the oven to 350 degrees F.

In a heat-proof bowl, pour the boiling chicken stock over the bulgur wheat. Add the lemon juice, 1/4 cup olive oil, and 3/4 teaspoon of salt. Stir. Cover the bowl with plastic wrap and allow the bulgur to stand at room temperature for about 1 hour.

Place the chicken breast on a baking sheet and rub it with olive oil. Sprinkle liberally with salt and pepper. Roast for 35 to 40 minutes, until just cooked. Set aside until cool enough to handle. Remove the chicken meat from the bones and discard the skin.

Cut the chicken into medium dice and add to the tabbouleh. Add the scallions, mint, parsley, cucumber, tomatoes, 1 teaspoon salt, and 1 teaspoon pepper. Season, to taste, and serve immediately or cover and refrigerate. The flavors will improve as it sits.

Yield:  6 servings

Print This Recipe