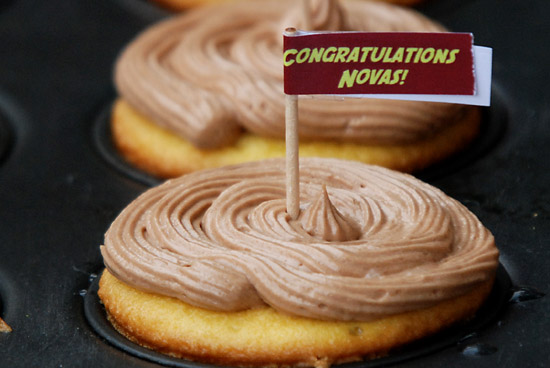 Our sons finished their first little league season this past weekend and this was our week to bring snack.  Since it was the last game, I decided to make cupcakes.   Originally I wanted to make buttercream frosting and color it maroon, with "Congratulations Novas!" piped on each one in yellow.    Maroon and yellow were our team colors.  Well, in my usual way, I made the cupcakes on Friday night and left them for our babysitter to pull out of the oven.   I was too tired to launch into frosting on Friday night when we got home, so I left it until Saturday morning.   My grandmother is rolling over in her grave as I write this.   She was always telling me to plan ahead, which I still haven't learned to do…
Our game was at 10:30, but the boys had to be there at 10:15 for a warm-up.   At 9am I decide that it's really time to think about frosting the cupcakes.    I wasn't sure how many drops of food coloring and which colors I'd need to make a nice maroon-colored frosting, so I decided to forget it.   Since it was so close to departure time I couldn't afford to destroy a batch of frosting by messing up the color.   I decided to make chocolate frosting instead, and in lieu of writing on each cupcake, I asked my husband (have I told you how wonderful he is?) if he would make little flags for each one.
I had never made chocolate frosting before, and boy was I lucky that this recipe was good.   Like I said, I didn't really have time to make a second batch if the first one wasn't good.  I turned to my go-to cookbook:   How to Cook Everything by Mark Bittman.   I knew Mark wouldn't let me down, and he didn't.
If you're wondering why I didn't just buy a can of frosting, it's because of the trans fats.   I really like the taste of frosting in a can, but I refuse to buy it as long as it contains trans fats, and they all do.   It's surprising in this day and age that a product can still be on the shelves containing trans fats, but somehow they haven't figured out how to get them out of frosting.
The recipe calls for cream or milk.   I used cream and the frosting was delicious, so I recommend it.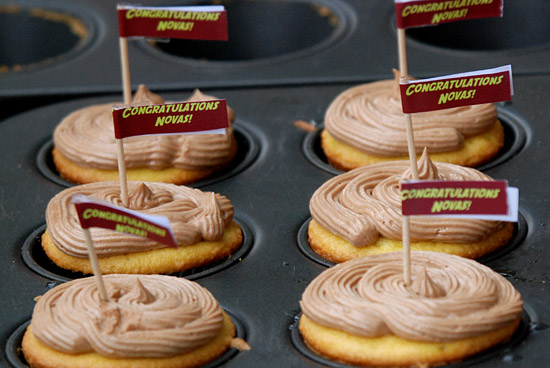 Chocolate Buttermilk Frosting
From How to Cook Everything by Mark Bittman

8 tablespoons (1 stick) unsalted butter, softened
4 cups confectioners' sugar
6 tablespoons cream or milk, plus a little more if needed
2 teaspoons vanilla extract
pinch salt

Melt 2 oz. unsweetened chocolate over very low heat in a double boiler.   Alternatively, if your microwave has a setting for melting chocolate, you can melt the chocolate in your microwave.

Use a fork or an electric mixer to cream the butter.  Gradually work in the sugar, alternating with the cream and beating well after each addition.  After about half of the sugar is added, add the chocolate to the mixture.  Continue adding the remaining sugar and cream, beating well after each addition.

Stir in the vanilla and the salt.   If the frosting is too thick to spread, add a little more cream.   If it's too thin (unlikely, but possible), refrigerate; it will thicken as the butter hardens.

Yield:  Enough frosting and filling for one 9-inch layer cake or 24 cupcakes

Print This Recipe