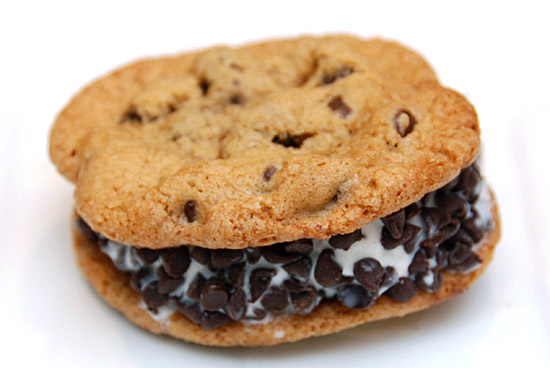 My friend Nancy told me that she made a batch of these last week and I've been craving one ever since.  Let me tell you, they were a BIG hit with the boys. I gave each of the boys a half of one after school today and they were definitely happy campers.
I didn't use my standard chocolate chip cookie recipe to make these.    When I use my regular recipe, I typically store the cookies in the freezer and they get really hard – a bit too hard for ice cream sandwiches.  I knew I needed a recipe that made softer, chewier cookies.   I stumbled upon this one and the cookies are definitely chewier than the ones that I typically make. My husband just admitted that he likes this cookie recipe more than my regular one!
I didn't make my own ice cream for this recipe.  I bought a half-gallon of vanilla.   Next time I plan to try to make my own ice cream.   I have an ice cream maker that has been sitting dormant for a while so it's about time I used it again!
This recipe comes from a site called AllRecipes.com. I followed the directions and ended up with a batch of delicious, chewy cookies. I stuck some vanilla ice cream between two of them then rolled the sandwich in mini chocolate chips. Yum! A perfect summer treat.
Big, Fat, Chewy Chocolate Chip Cookies

2 cups all-purpose flour
1/2 teaspoon baking soda
1/2 teaspoon salt
3/4 cup unsalted butter, melted
1 cup packed brown sugar
1/2 cup white sugar
1 tablespoon vanilla extract
1 egg
1 egg yolk
2 cups semisweet chocolate chips

Sift together the flour, baking soda and salt; set aside.

In a medium bowl, cream together the melted butter, brown sugar and white sugar until well blended. Beat in the vanilla, egg, and egg yolk until light and creamy. Mix in the sifted ingredients until just blended. Stir in the chocolate chips by hand using a wooden spoon.

Put the dough in the freezer for at least 30 minutes.

Preheat the oven to 325 degrees F (165 degrees C). Grease cookie sheets or line with parchment paper.   Drop cookie dough onto the prepared cookie sheets. Cookies should be about 3 inches apart.  Bake for 15 to 17 minutes in the preheated oven, or until the edges are lightly toasted.

Cool on baking sheets for a few minutes before transferring to wire racks to cool completely.

Yield:  ~36 cookies

Chocolate Chip Ice Cream Sandwich

Chocolate chip cookies
Vanilla ice cream
Mini-chocolate chips

Soften ice cream on the counter for 10 minutes prior to making sandwiches. Place a scoop of ice cream on the backside of 1 cookie. Sandwich with another cookie and carefully press together until ice cream reaches the edge of the cookies. Roll edges in mini-chocolate chips. Freeze for 10 minutes, then serve.

Print This Recipe