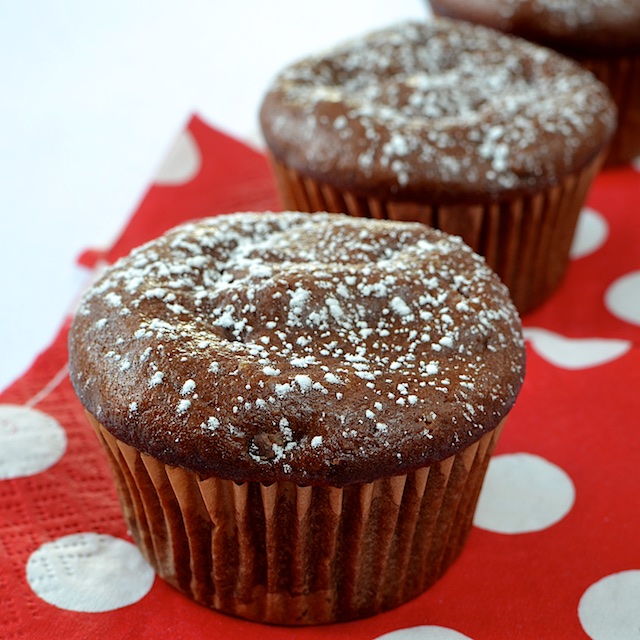 I know I haven't posted in a while. I've officially become more of an occasional food blogger. With four boys in middle school, my time is devoted to them – bringing them here and there, helping with homework, encouraging them to do their homework rather than fool around, etc. I'm still doing a lot of cooking, but I have less time to stage and photograph the recipes that I like. I'm going to do my best to get back to it.
I made these muffins on Saturday morning for breakfast. I had some extra ricotta in the refrigerator and I'm always happy when I can get a little extra protein and calcium into something that the boys eat. All of the boys loved them. As soon as they saw the muffins set out for breakfast, one son said, is there broccoli in these? Another asked about zucchini. They're wise to my tricks. I was happy that I could honestly tell them that I did not try to hide any vegetables in the muffins.
This recipe made a dozen standard-sized muffins, plus a dozen mini-muffins. The recipe states that you should let the muffins cool for 30 minutes before serving them. My boys ate them as soon as they came out of the oven. There were a couple of downsides to this: one son found that the muffins stuck to the wrapper and another son found out that the chocolate chips were molten and very hot. Once the muffins cooled, neither of these problems existed.
I dusted the muffins with powdered sugar. The boys are already asking when I can make them again.
Chocolate Ricotta Muffins
Recipe from Molly Katzen

Nonstick spray for the pan
2 1/3 cups all-purpose flour
3/4 teaspoon salt
2 teaspoons baking powder
7 tablespoons unsweetened cocoa
1 cup sugar
1 cup semisweet chocolate chips
1 cup ricotta
2 large eggs
1 1/3 cups milk
1 tablespoon vanilla extract
4 tablespoons (1/2 stick) unsalted butter, melted

Preheat the oven to 350°F. Lightly spray 12 standard-sized (2 1/2-inch-diameter) muffin cups with nonstick spray or line them with paper liners.  You may need to spray a couple of additional cups or some mini-muffin cups.  The batter made 12 standard sized muffins plus 12 mini-muffins.

Combine the flour, salt, baking powder, cocoa, and sugar in a medium-sized bowl.

Place the ricotta in a second medium-sized bowl, and add the eggs one at a time, beating well with a medium-sized whisk after each addition. Add the milk and vanilla, and whisk until thoroughly blended.

Pour the ricotta mixture, along with the melted butter, into the dry ingredients. Using a spoon or a rubber spatula, stir from the bottom of the bowl until the dry ingredients are all moistened. Don't overmix; a few lumps are okay.

Spoon the batter into the prepared muffin cups. For smaller muffins, fill the cups about 4/5 of the way. For larger muffins, fill them even with the top of the pan. If you have extra batter, spray one or two additional muffin cups with nonstick spray and put in as much batter as you have.

Bake in the middle of the oven for to 20 to 25 minutes, or until lightly browned on top, and a toothpick inserted into the center comes out clean. Remove the pan from the oven, then remove the muffins from the pan and place them on a rack to cool. Wait at least 30 minutes before serving (see comments in text above about this).

Yield: 1 dozen standard-size muffins plus 12 mini-muffins


One year ago: Chocolate Mint Crackle Cookies
Two years ago: Peppermint Cream Squares
Three years ago: Pork Tenderloin with Balsamic-Cranberry Sauce
Four years ago: Clementine Vanilla-Bean Quick Bread
Five years ago: Peanut Butter and Jam Jewels
Six years ago: Lemon Bars

Print This Recipe