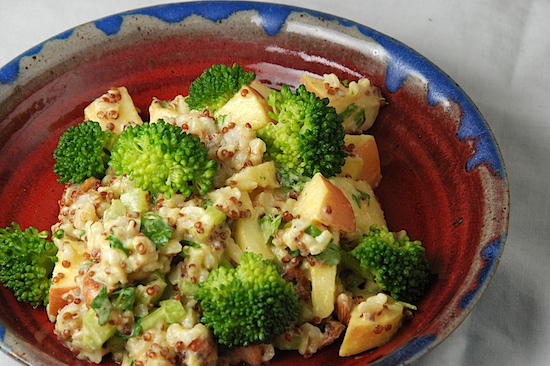 In my quest to put healthy food on the table, I decided to make this healthy entree salad for dinner tonight. It was published in the NY Times earlier this week. I succeeded in getting some healthy food to the table, but I didn't succeed in getting the boys to try it. That said, one of my sons was willing to try some of the red quinoa that I had left over. At first he didn't think it had much taste, but when he tried a little more he decided he didn't like it. I gave him a lot of credit for trying it. He was the only one who did. One out of four isn't bad.
I thought this salad was incredibly tasty, and it's more filling than it looks. The recipe says it serves six. When I pulled it all together, I wondered if there was going to be enough to serve two. I thought I'd certainly be able to eat at least half of the salad, but I found the salad to be surprisingly filling.
The salad is tart and sweet at the same time. I made the dressing with buttermilk, and combined with the fresh lime juice, the dressing has a nice tang. It goes nicely with the rice, quinoa and sweet apples.   I loved the crunch of the toasted almonds.
The salad took a bit of time to put together, but it was worth it.   I can't wait to see what it tastes like tomorrow after a night in the refrigerator.   I'll definitely make this again.
Curried Rice and Quinoa Salad
Recipe from NY Times Recipes for Health Column by Martha Rose Shulman – 1/4/10
3/4 cup basmati brown rice, or 1 cup regular long grain or short grain brown rice, cooked
1/2 cup quinoa, preferably red quinoa, cooked
1/4 cup toasted almonds, coarsely chopped
1 large stalk celery, diced
1 apple, cored, cut in small dice and tossed with 1 tablespoon freshly squeezed lemon or lime juice
1/4 cup chopped cilantro

For the dressing:

1/2 cup plain low-fat yogurt or buttermilk
2 tablespoons mayonnaise
2 tablespoons fresh lime juice
1 teaspoon Dijon mustard
1 teaspoon curry powder
Pinch of cayenne
Salt to taste
2 tablespoons canola oil

For garnish: 1/2 pound broccoli florets, steamed for four or five minutes and refreshed with cold water

Combine all of the salad ingredients.

Whisk together the yogurt or buttermilk, mayonnaise, lime juice, Dijon mustard, curry powder, cayenne and salt to taste. Whisk in the oil, and toss with the salad. Garnish with the broccoli florets, and serve.

Advance preparation: You can make this several hours before serving, and keep in the refrigerator. Leftovers keep well for a few days.

Yield: Serves six.

Print This Recipe